Ashgabat streets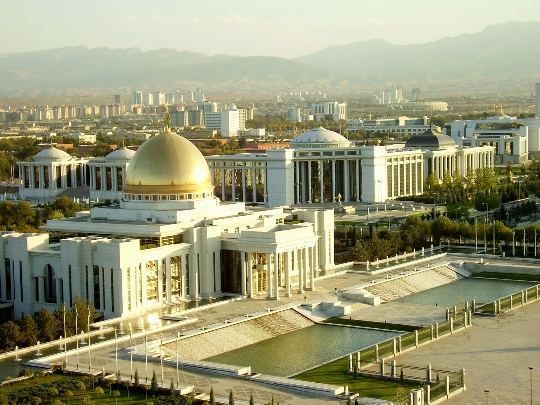 Ashgabat is one of the most interesting cities located in the Central Asian states. The streets of Ashgabat today amaze with their luxury, and the buildings with their monumentality. The current leader of the state has taken a course towards a complete transformation of the country so that nothing reminds of the Soviet past, and Ashgabat is undoubtedly a clear result of these long-term aspirations..
Streets of Ashgabat today
We can immediately say that a tourist should not be guided by old maps, since the city is constantly undergoing transformations. Every year new houses, neighborhoods, streets and even whole districts appear here, so it is better to buy maps locally or download their electronic counterparts on the Internet. In order to get a more or less complete picture of what modern Ashgabat is like, it is better to start your journey from the central streets..
Bitarap Avenue Turkmenistan
Ashgabat's main avenue and one of its largest highways. In 2011, it was transformed so radically that it now has very little to do with what it used to be. Respectable private houses, shops, supermarkets and large shopping centers are located along the avenue. True, you can find here mainly only other tourists, since relatively few local residents live here..
Archabil highway
Archabil highway is the fastest highway in the city. It is noteworthy that today an infrastructure has grown around it, consisting of large business and cultural centers, as well as the most expensive elite restaurants and hotels in the city. The local landscape is simply striking in its majesty and monumentality, so every guest of Ashgabat is simply obliged to include it in his itinerary of must-see sights..
Makhtumkuli Avenue
One of the oldest avenues in the city, formerly known as Mervsky prospect. It differs from other streets in that large-scale reconstruction of recent years has little changed its original appearance. Along the entire avenue, there are beautiful avenues of thujas, pines, white acacias, albits and cypresses..
Health trail
The health path cannot be called a street in the traditional sense of the word. This road, 36 kilometers long, goes beyond Ashgabat and, according to Saparmurat Niyazov's idea, should serve to improve the health of the townspeople. The site gained popularity after the country's leader forced the country's entire cabinet of ministers to walk the Health Pathway in 2000. Remarkably, the organizer himself chose to get to the end of the street by personal helicopter.
Photos of Ashgabat streets