Coat of arms of Turkmenistan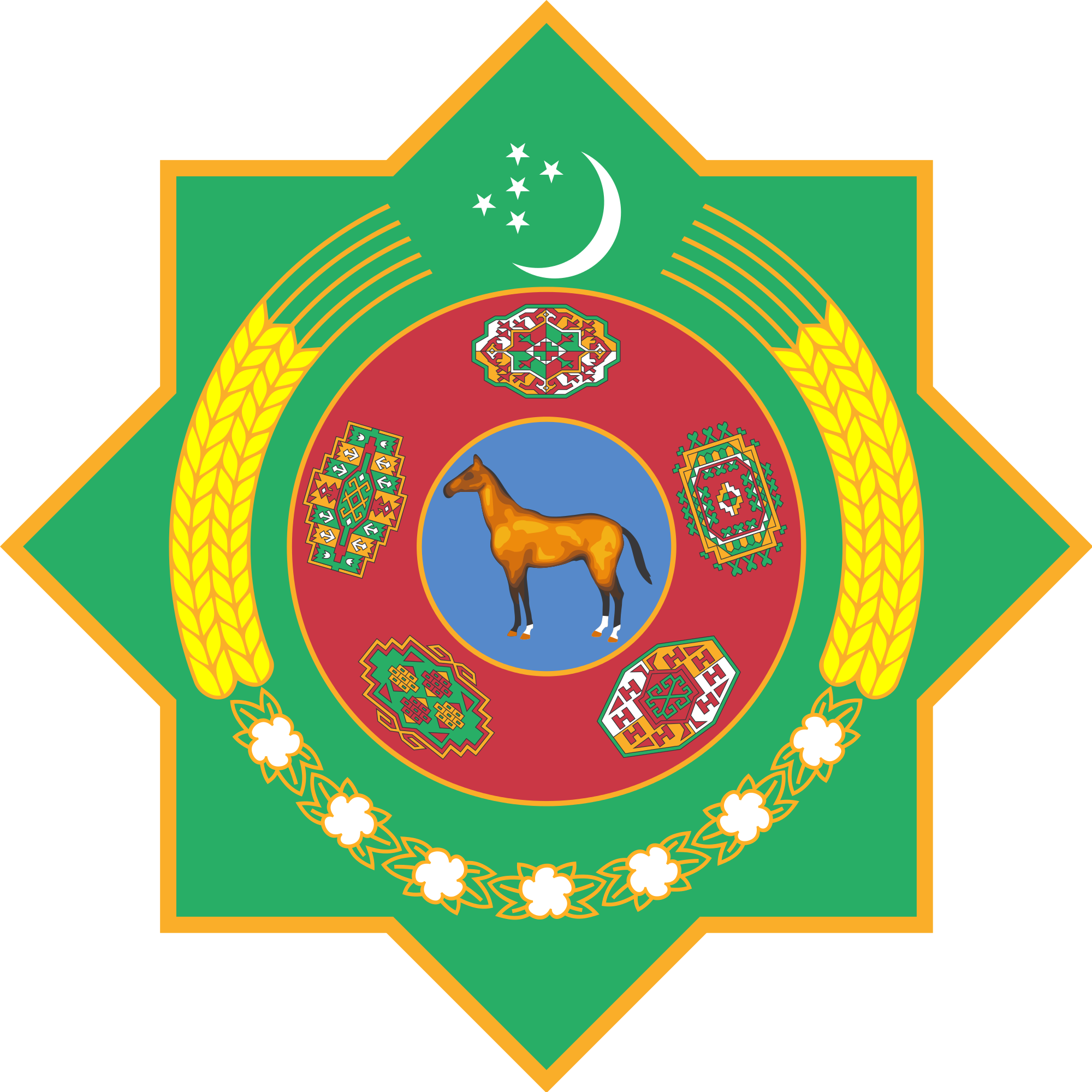 The coat of arms of Turkmenistan was approved in 1992. Since that time, it has changed several times. Previously, this emblem had a round shape, but since 2003, the main emblem of Turkmenistan has become octagonal. This form for the coat of arms was defended by the President of the country Saparmurat Niyazov. It is believed that this coat of arms embodies the legacy of the Seljuk dynasty, who in ancient times created a huge empire that subdued almost all of Central and South Asia.
Eight pointed star
At the heart of the Turkmen coat of arms is a green eight-pointed star - these are two superimposed squares. In Turkmenistan, she is called the star of the mythical Oguzkhan, who is revered by the legendary leader of the Oguz tribes. The same symbol throughout the rest of the Muslim world is called Rub al-Hizb. This star is surrounded by a yellow-gold border and resembles a green carpet. In Turkmenistan, the eight-pointed star has been considered a symbol of prosperity, tranquility and peace since ancient times. Her images can be seen almost everywhere: on the tops of pillars, fences, as a decorative element of buildings.
The main symbols of national wealth

On a green background of an eight-pointed star, as on a carpet, the main symbols of the wealth of Turkmenistan are depicted.
Opened cotton bolls are placed in the lower part - there are seven of them in total.
Wheat spikelets are visible in the middle.
Above is a crescent moon with five five-pointed white stars.
The image of the crescent moon connects the coat of arms with the Islamic world, since the main religion in Turkmenistan is Islam. Five stars at the crescent symbolize five regions (vilayets) of Turkmenistan. This number is also observed in the image of gels..
Gyuli and Akhal-Teke breed of horses
There are two circles in the central part of the coat of arms. The central blue circle is inscribed in a larger diameter circle, which is colored red. In the larger circle there are five gels, symbolizing the five regions of Turkmenistan. Gol is an ancient pattern used in sewing a Turkmen carpet. This pattern also has an octagonal shape..
The central blue circle depicts a horse of the Akhal-Teke breed. It is known that this horse breed was bred on the territory of Turkmenistan 5 thousand years ago. This cultivated breed has influenced many horse breeds and is considered the benchmark for riding horses. On the coat of arms of Turkmenistan, the horse of the first president of the country, nicknamed Yanardag, is depicted..
Photos