Prices in Abu Dhabi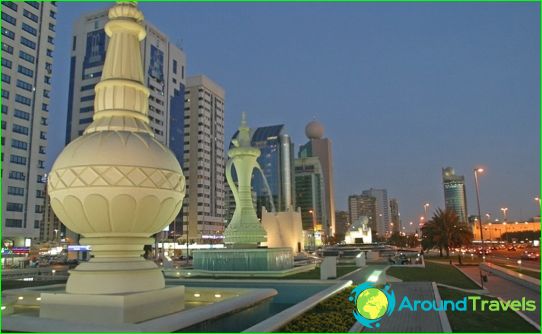 The center of recreation, sports and shopping in the Emirates is Abu Dhabi. It is the capital of the country, the richest and largest city in the UAE. Abu Dhabi is located on the shores of the Persian Gulf, there are picturesque oases, sands and rocky plains.
You can come to the UAE with any currency in the world. There you can easily exchange it for the national money of the country. In Abu Dhabi, dollars and euros are common, as well as throughout the UAE. You can exchange rubles without any problems, but the rate will be much lower than in Russia.
Residence
The well-to-do life of local residents is measured. There are no catchy super projects here. Abu Dhabi always welcomes tourists. There are many decent places to stay in the city. The tourism business in Abu Dhabi is developing steadily. Therefore, any hotel in the city guarantees a whole range of services for tourists. Even in an economical hotel, you will receive high quality service..
The cost of a room in an Abu Dhabi hotel depends on the class of the hotel and the season. Accommodation prices from September to May are higher than in summer. To save money, it is better to come to rest in this city from June to August, at the peak of the heat. The minimum price for a room in a first-class hotel in the fall is 580-600 dirhams. A 3 * hotel room will cost about $ 400 per day.
Excursions in Abu Dhabi
Excursion programs are quite expensive. Amusement park tickets are expensive. Nightlife is also expensive. The average cost of a sightseeing tour in the city is $ 100 per person. Cheaper to explore the sights of Abu Dhabi on your own using public transport or taxi.
A sightseeing tour of the capital of the UAE costs $ 100. It includes a visit to an extensive park area - the Corniche Road embankment. It is there that the numerous fountains of Abu Dhabi are located. While vacationing in Abu Dhabi, you can drive to the nature reserve on the island of Sir Bani Yaz, go to the Al Ain oasis or go deep-sea fishing or hunting crab. Popular activities include mountain safari and dune races on motorcycles. The cost of the safari is $ 80 per person. Tickets to water parks cost about $ 60.
Food in Abu Dhabi
Tourists usually prefer to eat in hotels. If you get tired of the Arabic menu, you can at any time go to a restaurant that offers European dishes. Abu Dhabi has fast food, McDonald's and pizzerias. You can dine in a mid-range restaurant for 20-50 dirhams (AED). Pizza costs about 13 AED, fast food - no more than 10 AED.
Abu Dhabi - A place in the sun

Photos