Holidays in the UAE in August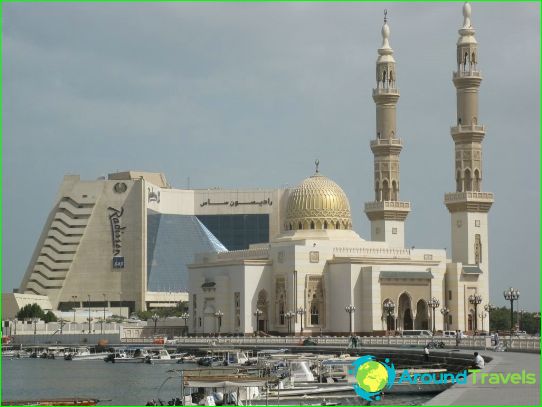 The last month of the Middle Eastern summer continues to amaze with incredibly hot weather, the complete absence of at least one heavenly drop. Therefore, the journey to the heart of the desert will have to be postponed until more fertile times. Holidays in the UAE in August can be spent on the coast, only you should carefully approach the acquisition of tanning, stretch this pleasure for several days to obtain a beautiful chocolate shade. Diving in the UAE at this time will allow you to find temperatures more comfortable for humans and get acquainted with the amazing underwater kingdom.
Weather in August
The tourist will not see any difference between the temperature of July and the final month of summer in the UAE. In the suitcases of tourists who are going here on vacation, there should be no warm clothes in principle. It is best to have very light outfits, made from natural fabrics and long enough to protect yourself from the rays of the hot August sun and as a sign of respect for the Muslim traditions of this country..
At level + 40 ºC in the daytime there are average temperatures in the UAE in August, by the evening the temperature drops to +30 ºC. Water on the coast in the area of ​​+33 ºC, therefore, many tourists prefer swimming pools located on the territory of hotels to sea bathing..
Sheikh's life
While on vacation in Dubai, you can find time to visit the amazing museum, which is on the list of monuments of national culture. This is the house that the ancestors of the current ruler of the UAE built for themselves and their descendants. Now tourists live in it during the day, wondering that the house of a great dynasty was built from the same materials as those of its less well-to-do neighbors. The basis is corals that once lived at the bottom of the Persian Gulf, then they are covered with gypsum or limestone.
Three dozen rooms will have to be examined, moving counterclockwise, these are the rules in this country. The exhibition halls will tell about the history of Dubai and the family of the ruling leader, will present artwork, paintings, lithographs, and architecture of the interior space. Interesting for tourists and the life of an Arab family, which is revealed through the living quarters and the kitchen.
Diving in the UAE
Scuba diving is not yet as popular in this country as among the favorites of the tourist industry. But it is developing very actively, its training centers have already appeared in the main resorts. Marine life at the bottom of the bays is represented by reef sharks, various fish, octopuses, turtles.
Vacation photos in the UAE