Holidays in the UAE in June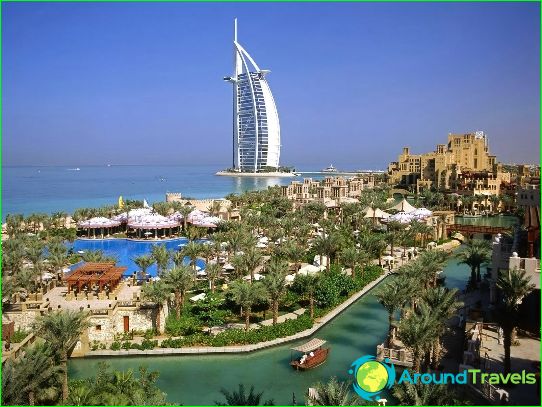 Seven emirates, having united in a federal state, act as a united front in the tourism industry. Magnificent beaches, clear waters of the bays (Oman and Persian), many shopping and entertainment complexes, exotic excursion programs - this and much more speaks in favor of this country.
A tourist choosing a vacation in the UAE in June should think carefully about the program of his stay, because it will not be possible to spend all the time on the beach due to high temperatures. But on the other hand, this country has many amazing and exotic places worthy of the attention of the most sophisticated traveler..
Weather in UAE in June
Record heat is on the way, as the air temperature rises to such levels that an ordinary resident of central Russia never dreamed of. The coldest in Sharjah, +37 ° C, in the famous resort of Abu Dhabi, and at all +39 ° C. Even the replaced night does not save, the temperature column seems to freeze at around +26 ° C.
In June, in the emirates, most of the tourists concentrate on the resorts located in Fujairah, although here the air temperature is about +39 ° C during the day and +31 ° C at night. But the water is much cooler than in the Persian Gulf..
Travel to Fujairah
This is one of the emirates, distinguished by extraordinary landscapes and a wealth of historical monuments. There are not many skyscrapers here, and therefore the resort looks much more comfortable than its brothers..
Traditional Arabic patterns are the leitmotif of the city's architectural landmarks. A curious tourist awaits in «old town» the fort, unfortunately, is already in a dilapidated state, as well as a busy port or the Maritime Club.
Not far from Fujairah there are the small settlements of Bitna and Kidfa. Archaeologists who have carried out excavations in the vicinity of these villages have revealed many amazing artifacts that testify to the ancient local inhabitants. Now authentic items can be seen in the Museum of Ancient Settlements.
Active entertainment
Fujairah hotels have developed June complexes of various leisure programs for city guests. In addition to visiting national shrines and sights, you can climb the mountains, go on an exotic journey along dry river beds. Coral reefs await diving enthusiasts. Given the high air temperatures, descent under the water, where it is much cooler, the best way out for a vacationer in the UAE in June.
Vacation photos in the UAE