Holidays in the UAE in March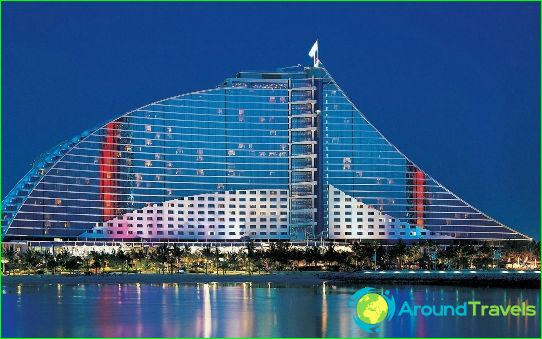 The United Arab Emirates are moving by leaps and bounds towards the creation of a tourist paradise on earth. Amazing structures that are being built here at cosmic speeds help tourists to endure the heat, lack of coolness, and other negative moments of relaxation in the desert zone.
Snow-white beaches with clear blue water will allow anyone who arrives on vacation in the UAE in March to get real pleasure..
Weather conditions in the first spring month
March is a kind of transition from winter to spring, so the weather conditions at the beginning and end of the month vary greatly. The first days of March are cool enough. But April the country meets with really hot temperatures.
In the Persian Gulf, in the resorts of Abu Dhabi or Ras al-Khaimah, the temperature soars up to +28 ° C during the day. Dubai welcomes tourists with slightly cooler weather, + 27 ° C. As temperature records are still ahead, a holiday in March is considered the most suitable for a beach pastime..
Sun Sea Beach
Everything is ready for the heavenly delight of tourists. The water temperature is growing rapidly, approaching comfortable indicators of +23 ° C in the Persian Gulf, +21 ° C on the beaches of Fujairah.
The main tourist contingent gathers in and around Dubai. Three large resort areas allow vacationers to decide on a place to stay. There are ultra-modern hotels, five stars are displayed on the facades of each of them, and even seven on one..
Hotels in other parts of Dubai are located a little further from the coastline, but tourists vacationing here have the opportunity to go on wonderful city tours to see the sights at Sheikh Saeed Palace and Dubai Museum.
Music lovers festival
The first decade of March in the UAE is musical. Music lovers, amateurs and professionals flock to Dubai, to the famous «Desert Rock Festival». Here everyone gets a platform for self-expression, music and street art, tattoo parlors and hairdressers. The most interesting competition of wet T-shirts is held at the festival, but representatives of the courageous half of humanity have the right to participate in it..
Shopaholics of all countries, unite!
Tourists who live on different continents, but united by one goal, flock to the Emirates, to Dubai. Buy! A unique opportunity to purchase goods for ridiculous prices is provided to all participants of the Trade Festival.
Vacation photos in the UAE