Airport in Liverpool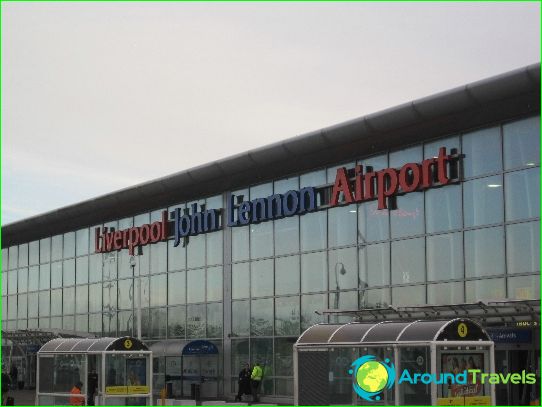 The English airport serving the city of Liverpool is named after the famous musician John Lennon. Previously, the airport was called Speke Airport. It is located about 15 kilometers from the center of Liverpool, near the mouth of the River Mersey.
Liverpool Airport is considered one of the fastest growing airports in Europe. Since 1998, the passenger traffic has increased annually. If in 98 it was about 900 thousand, now almost 5.5 million are served here. In May 2007, the airport handled more than half a million passengers per month for the first time.
The airport in Liverpool has one runway, which is 2286 meters long. Ryanair, famous throughout Europe, is based here..
History
The history of Liverpool airport begins in 1930. At that time, Speke Airport operated regular flights to Manchester and London. Only 3 years later, the airport was officially opened. By the end of the 30s of the last century, the airport needed new buildings - a new terminal, control tower and hangars were put into operation.
During World War II, the airport in Liverpool was actively used by the Air Force..
In 1966, a new runway allowed the airport to operate around the clock. In 1986, a new passenger terminal was built to replace the old one. In 2000, work began on a new passenger terminal. The terminal was put into operation after 2 years, the cost of the work cost more than 42 million pounds. The new construction allows the airport to triple its capacity.
Services
The airport in Liverpool offers its passengers all the services they need on the road. Passengers can visit cafes and restaurants. There are also shops on the territory of the terminal where you can find various goods..
Of course, a set of standard services is presented - ATMs, mail, Internet, luggage storage, etc..
For passengers traveling in business class, the airport offers a separate waiting room with an increased level of comfort.
Transport
There are several ways to get to Liverpool from the airport. Unfortunately, the airport does not have a railway connection to the city, but buses run regularly to the nearest railway station, South Parkway. From this station you can get to the city center or nearby towns. Buses also run to the city center.
Alternatively, you can offer a taxi.
Photos Liverpool airport