Tours to Edinburgh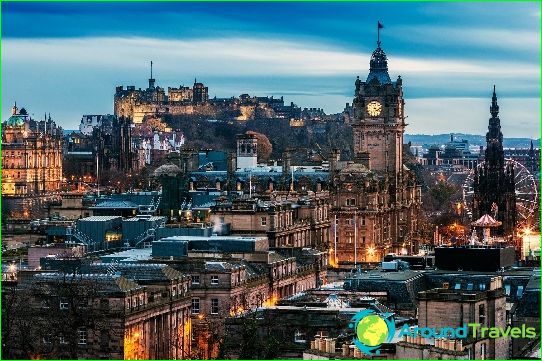 It was here that they invented an adhesive tape and a kilt and bred a breed of cute dogs, a prominent representative of which was the famous Blot of the clown Pencil. Scotland - slightly foggy, a little hilly, full of ancient castles and dreary sounds of bagpipes - is increasingly becoming the subject of interest of Russian tourists. If you decide to buy a tour to Edinburgh, you only need a visa, a passport and a few free days in order to fill them with vivid and unforgettable impressions..
History with geography
The capital of Scotland was founded, according to the chronicles, at the beginning of the 12th century. It was a fortress and a settlement around it, and the city reached its highest prosperity during the Age of Enlightenment. It was granted capital status in 1437.
Edinburgh is located on the east coast of the country on the shores of the North Sea Bay. Part of its historic center has been declared a UNESCO World Heritage Site.
Briefly about the important

The temperate Scottish maritime climate ensures that Edinburgh tours have cool summers and mild winters. There are frequent showers here throughout the year, and therefore it is difficult to distinguish between dry and wet seasons. The most favorable time to travel to Edinburgh is spring, when the rainfall is slightly less..
There is no direct flight from Russia to the Scottish capital yet, but there are a lot of options to get with connections in London or other European cities. Buses and taxis are available from the terminal to the center. Trains from Glasgow and London also run to Edinburgh.
For many years, the local taxi has been the symbol of Edinburgh, which is played by black auto-cabs. Riding such a car will not be cheap, but as part of a tour to Edinburgh, you can afford such a trip as a sightseeing trip. Traveling by city buses is much cheaper, and purchasing a single Edinburgh Pass ticket will significantly save both on travel and on entrance tickets to museums.
For those who are not used to wasting money and overpaying for the brand, the Scottish capital offers to stay in hostels. Prices per night in such hotels are significantly lower than in hotels of famous lines, and they are also located in the historical part of the city, including.
Shopping for souvenirs is best in shops on the Royal Mile near Edinburgh Castle, and whiskey tasting - in Grassmarket.
Photos