London beaches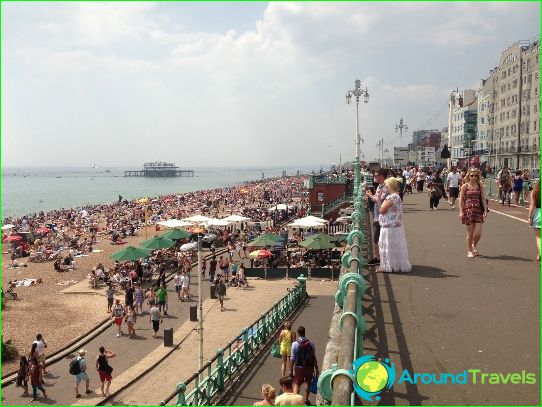 Rainy and unfriendly England - this stereotype has been exploited for a very long time, and therefore tourists prefer to travel to Foggy Albion not to relax, but to get acquainted with the culture and see the local sights, which are trumpeted by all magazines and TV channels. It may seem surprising, but, although the beaches of London are not located specifically on the territory of the capital, they really exist, and they are also in demand among locals..
An unforgettable stay in Cornwall
The best sandy beaches in London are, of course, not a completely correct concept, because you will not find places specially equipped for seasonal recreation within the city. The British prefer to travel outside the city, for example, to Cornwall, and sunbathe already there. If you do not count the huge number of fairly deep fountains in London, where locals and visitors almost bathe during the heat, then the beaches are really not to be found here. Recently, the Thames has not only become heavily polluted, but also significantly crushed. Swimming in the Thames is an activity for the drunk or desperate, the best of course is to go to Cornwall.
The Cornwall Coast is considered one of the best seasonal holiday destinations in England. The climate here is quite mild, the air is very clean, and the atmosphere of the entire region rings with ancient legends and sagas. The mildness of the local climate is due to the fact that the territory is greatly influenced by the warm current of the Gulf Stream. Spring comes to Cornwall very early, and autumn drags on significantly. Of course, the water doesn't get too hot, and the highest temperature you can count on is 15-18 degrees. Therefore, there are not so many bathers here, however, there are as many as necessary to get a good summer tan..
Resting in this region has many advantages:
the beauty of the surrounding nature;
unprecedented mildness of the climate, the ability to rest even out of season;
the opportunity to communicate with representatives of the local culture, get acquainted with the unusual dialect of the local English language.
England is a land of impressions
In England, you can not only have a good rest, gain knowledge and impressions, but also actively go in for sports. For example, avid fishermen will be interested to learn that trout and salmon are very good at fishing here, and artists will be able to draw more than one picture, inspired by the local landscapes. West England is generous with experiences, and also offers the ultimate in 39 beaches in North Cornwall alone. Large, well-equipped beaches, offers for active recreation and the atmosphere of ancient legends - how can you imagine a vacation more beautiful than this?
Pictures of London beaches