London in 5 days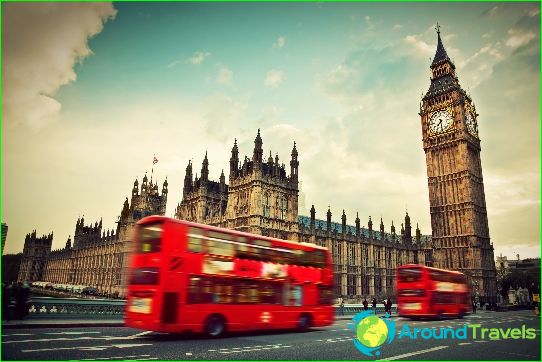 To see the sky of London is the cherished dream of many travelers. The capital of Great Britain is an amazing and interesting place. Films have been shot about her and hundreds of books have been written, and therefore the program of the "London in 5 Days" tour promises to be very rich for every guest, regardless of his preferences and preferences..
The lists include
It is worth sketching an excursion plan when visiting London in advance so as not to miss anything significant and important:
Tower of London. A place where noble prisoners languished for centuries and the foundations of the monarchy were preserved. In our time, beefeaters are worthy keepers of the traditions of the English crown, whose beautiful camisoles attract those who want to take a memorable photo in the once ominous walls..
St. Paul's Cathedral is one of the largest Catholic churches on earth, second only in size to the Vatican.
The London Eye is a Ferris wheel, from the height of which it is quite possible to see the entire capital of Foggy Albion.
Westminster Abbey, where monarchs were crowned for centuries.
Big Ben - the legendary clock tower used by Londoners to check their time.
For fans of cultural values
Once in London for 5 days, it makes sense to find time and join the world's values ​​by visiting the most famous museums in Great Britain. For example, the London National Gallery is ready to acquaint its guests with more than two thousand paintings. The paintings in its rooms date back to the 13th - 20th centuries, and the most famous are paintings by Rubens, Rembrandt and Titian..
No less interesting are the expositions of the British Museum, which is the second most visited museum in the world after the Louvre. Its halls contain the largest collection of archaeological values, including Egyptian mummies and sarcophagi. By the way, a piece of the Sphinx's beard from Giza is also part of the collection of the British Museum. The halls contain giant statues of moai from Easter Island, the "Discobolus" sculpture, the works of Michelangelo and Leonardo, and the world's oldest printed book "The Diamond Sutra".
Trafalgar classics
Trafalgar Square is considered one of the important places in London, in which many sights will have to be seen in 5 days. An example of classic exemplary architecture, the square demonstrates the perfect harmony between all its buildings. They say that it is here that you can feel the heartbeat of London and feel the rhythm and special temperament of the city..
Photos