Tours to London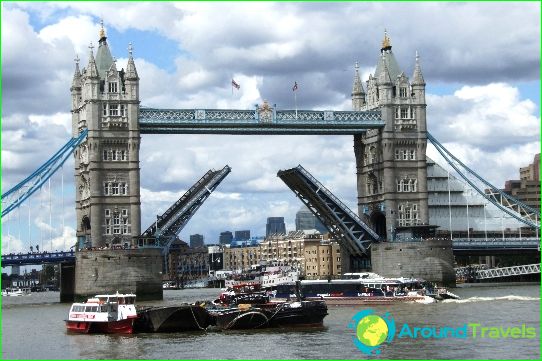 Today, the metropolitan area of ​​Greater London is home to at least 10 million people, and more than two thousand years ago there was a small settlement of the ancient Romans, whose inhabitants were obliged to protect a wooden bridge across the river. Since then, a lot of water has flowed under the bridge from the Thames, it has been girded with new stone bridges, and tours to London are becoming more and more popular with the inhabitants of the whole planet every year..
Capital of foggy Albion
It is under this unofficial name that London is familiar to travelers all over the world. Albion is the old name of the British Isles, and the climate of both the country and its capital is quite consistent with the definition of "foggy".
The climate of London is maritime, temperate, providing all its residents and guests with mild winters and warm enough summers. The impact of the Gulf Stream does not allow the temperatures of winter and summer to differ too much from each other, and therefore in January and July the city is neither hot nor cold, but humid and mostly cloudy.
Briefly about the important

London is called Big Smog and is one of the most polluted cities in the Old World..
Public transport in the capital of Great Britain has six tariff zones, to which the fare is tied. When planning tours to London, it is worth considering that the cost of travel by metro or bus here is higher than the average in Europe. If there is a letter "N" in front of the bus route number, it means that it runs at night. A single pass in the city is valid for all types of transport, except for water.
You can get to London by plane and train. The city has Europe's largest airport, Heathrow, to which direct flights are carried out from Moscow.
The most famous museums, which are most often visited by travelers on tours to London, are located in the South Kensington area. For fans of Arthur Conan-Doyle's art, 221b Baker Street hospitably opens its doors.
For those wishing to attend performances in famous London theaters, it is best to buy tickets in advance on the websites of famous art houses. Theaters are so popular with Londoners and visitors alike that you might not get tickets on a tour to London.
The city hosts many festivals, exhibitions and holidays, each of which is already a good reason to visit the British capital. The most popular sporting events include the London Marathon, held since 1981, and the Oxford-Cambridge Boat Regatta, first held in 1829.
Photos