Attractions in London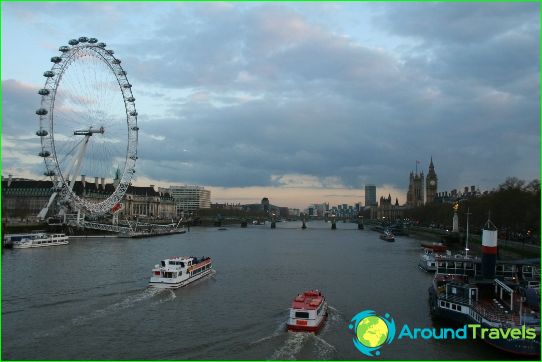 The capital of Great Britain can be considered one continuous attraction. This stronghold of English tradition is today one of the most popular tourist destinations in the world. Every year travelers from all over the world flock here, so it is not surprising that the city infrastructure is built in such a way that all guests here would be as cozy and comfortable as possible..
At the same time, London has not lost its unique charm, so it cannot be confused with any other city. As for entertainment, all kinds of attractions in London are found in great abundance, so no one will be bored.
Thorpe Park
This amusement park is definitely worthy of being at the top of any tourist's list. The air here is literally saturated with fun and adrenaline, and everyone who dares to look here is unlikely to leave this place willingly.
The attractions at Thorpe Park are particularly varied. There are both completely harmless options for the smallest, and terrifying monsters, from the mere sight of which even desperate daredevils can have treacherous tremors in their knees. The latter include the famous: «Samurai»; «Detonator»; «No exit»; «Inferno».
Another feature of Thorpe Park is that its fear rooms are stylized as well-known horror films, such as the famous horror movie. «Saw».
The park is open from March 20 to November 9, and the exact opening hours can be found at https://www.thorpepark.com/. The cost of adult and children's tickets is the same - 24.99 pounds for one day and 30.99 for two.
London eye
Another popular attraction. This Ferris wheel differs from others in the huge size of the booths, inside which you can move freely in order to better see different areas of the city. A full revolution takes about half an hour, so while driving it is quite possible to have time to take a photo as a souvenir.
The wheel works according to the following schedule: from January to March and September to December «London eye» available from 10.00 to 20.30; from April to July: 10.00 - 21.00; from July to August: 10.00 - 21.30. An adult ticket costs a little over 18 pounds, a child ticket costs 10 pounds, children under 4 years old admission is free.
The attraction also has its own website https://www.londoneye.com/, and tickets can be bought right there. In this case, even a 10% discount is provided, and for an additional fee, you can hire a guide, as well as order wine and various treats.
Pictures of attractions in London