Transport in London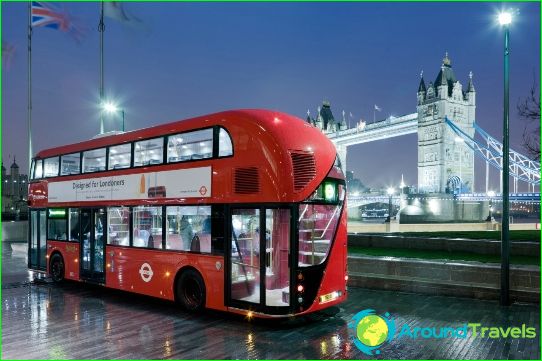 The capital of the oldest European kingdom is the center of attraction for tourists from different countries. While it's worth considering that a trip to London will cost a pretty penny, most of the local hotels are fairly modestly furnished. And the English weather is not very favorable to the guests of the city, as well as to the locals..
At the same time, transport in London is very well developed, there are also some specialties here, such as the famous tourist buses. These two-story red cars became a symbol of England, and from its capital they began to march around the world. In general, to move around the city, you can choose:
the London Underground, the layout of which resembles a terrible centipede, there are so many lines and branches here;
taxis, famous cabs are a tourist's dream, they used to be black, but now the palette has expanded significantly;
ecological modes of transport, for example, a bicycle loved by many.
National pride
The London Underground is the first in the world, which the capital's residents are very proud of, calling it the main city attraction. And the well-known name for this type of transport was invented by the British..
The London Underground has been operating for over 150 years and brings thousands of people to their destinations every day. It will be quite difficult for a tourist to navigate, since there are twelve lines, each of which has branches..
The main conveniences of English underground transport are speed and the ability to get to iconic places and monuments without much loss of time and effort. Electronic boards, signs and friendly English will tell you the route, the main thing is that the correct ticket for travel on the necessary lines is bought.
Cab served, sir!
Initially, this name was given to horse-drawn carriages in London, which became known thanks to Arthur Conan Doyle, who repeatedly mentioned them in his stories about the famous detective.
Today it is the most recognizable taxi in the world - the black cab, the Austin FX4. The height of the ceilings in the cabin amazes the modern passenger, but the gentlemen did not have to remove the cylinder when boarding a taxi. And the driver is extraordinary, because he is also a tour guide and can tell a lot of interesting information about the city and iconic places..
London by bike
While this type of transport is not so popular in the capital of Great Britain, but it is gaining momentum. The bike is convenient in terms of rental cost and is the most convenient way to get around the extremely busy city center.
Photos