Airport in Kryvyi Rih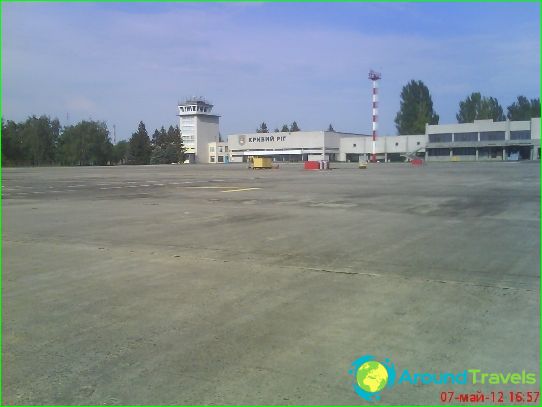 Lozovatka is an international airport in Krivoy Rog, located in the vicinity of the village of the same name, 20 kilometers from the city center in eastern Ukraine. Its 2.5-kilometer runway is reinforced with concrete and can accommodate aircraft with a takeoff weight of up to 170 tons..
Until recently, the airline served passenger and cargo transportation in Ukraine, as well as in the countries of near and far abroad. However, in May 2014, air lines to Russia were closed at the initiative of the Ukrainian side. In addition, European airlines, in connection with the latest events in the republic, considered that further cooperation with the airline could endanger passengers and crews of aircraft operating flights to the republic and considered it expedient to temporarily suspend all flights to Ukraine..
History
The airport in Kryvyi Rih, founded in the 1920s, experienced its rebirth in 1978. When in December the first passenger aircraft An-24 landed at the Krivoy Rog airport, the commander of which was the pilot - 1st class pilot Viktor Konstantinovich Maksimenko.
Since then, the airline has steadily expanded the geography of flights and increased the flow of passengers. New flights were opened to Moscow, Leningrad, Kiev, Yerevan, Tbilisi. The number of flights to the Far East, the Baltic States and Central Asia has increased.
The increased passenger traffic required the expansion of the port's production base. For this, in 1984, a new terminal building with a capacity of 400 passengers per hour and a hotel were built, and the class of aircraft received was also increased. Charter flights were opened to the German Democratic Republic, Czechoslovakia, Romania, Poland.
Gradually the airport in Krivoy Rog became an important crossroads of air transport communications. This was largely due to the favorable geographical position, the equipment of the take-off and landing complex and the round-the-clock operation of the enterprise..
Today, the airport only temporarily provides storage services. And the base enterprise of the Urga airport (AirUrga) currently carries out mainly cargo air transportation..
Service and services
The airport in Krivoy Rog has a minimum range of services that meet international requirements. On the territory of the airline there is a medical center, a storage room, a room for a mother and a child. Ticket offices, post office, currency exchange, ATMs are open.
Photos of the airport in Kryvyi Rih