Beaches in Kiev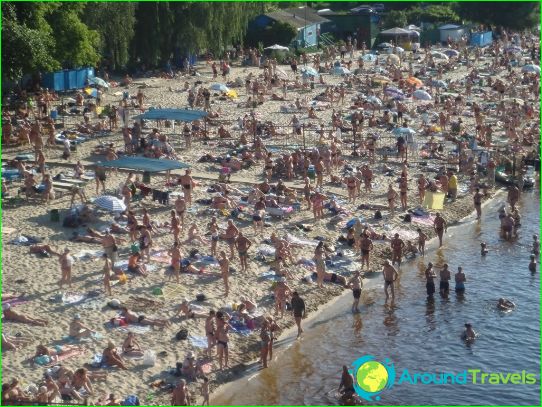 The capital of Ukraine is known for its cultural and architectural monuments, as well as for the originality of the local mentality. Bilingual Kiev can please visitors not only with numerous entertainments for young people, but also with local beaches on the banks of the Dnieper. The beaches of Kiev are very popular among Kievans and residents of the suburbs, if only because the nearest sea coast is about six to seven hours away, and in the hot season you want to get to the water as soon as possible. Therefore, everyone who has neither the opportunity nor the means to visit the resort town rests right on the coast of the Dnieper. However, here too, vacationers have the opportunity to feel the same as in fashionable resorts..
"BoraBoraBeachClub"
BoraBoraBeachClub is considered very popular. The entrance to this beach is completely free, and it is located very close to the local Hydropark. This institution became famous throughout Kiev for its cheerful and incendiary parties, in which young people simply do not like a soul. Also, the institution has acquired its own pool with beds located around. Rental of equipment on the beach, as elsewhere, is paid, and the prices here are metropolitan. Despite this, the best sandy beaches in Kiev often include this beach in their top lists. Perhaps this is because going to the toilet, renting an umbrella and going to the shower are free here.. 
"Trukhanov" beach
This beach is also one of the most popular. The entrance to the beach will cost you UAH 120, but this money will pay off. Here vacationers will enjoy a variety of entertainment:
two large swimming pools;
water slide for adults and children;
table tennis;
Beach volleyball;
football or tennis (cost - 50 UAH per hour).
Vacationers will also have the opportunity to use the local barbecue, subject to the availability of their own firewood. You can also hide from the heat in a small gazebo, or rent a sun lounger or parasol. In the complex itself, vacationers will find changing rooms, showers and clean toilets.
Perhaps the only noticeable drawback of the complex is the complete lack of a bar, but vacationers are allowed to bring their own food and drinks, as well as place their products in local refrigerators..
Corporate parties are often held on the territory of the complex, so everyone is asked to inquire in advance about the availability of seats..
Some beaches in Kiev offer a huge list of services that are included in the entrance fee. For example, along with a chaise longue, a vacationer can be provided with a personal towel. However, a visit to the pool or water park will always be made only for a fee..
Photos of Kiev beaches