Where to eat in Kiev?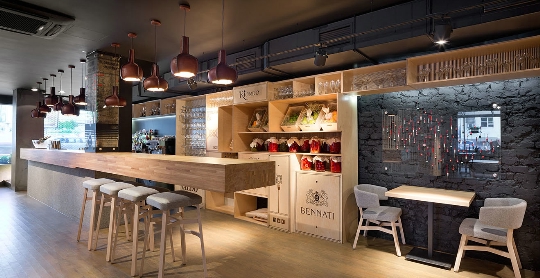 While on vacation in the capital of Ukraine, you will certainly be interested in where to eat in Kiev. In this city you will find many cafes, restaurants, eateries, canteens and bistros.
Where to eat in Kiev inexpensively?
You can eat inexpensively in the Puzata Khata chain restaurants: here, in addition to fast food, you will be offered to enjoy homemade food - soups, salads, cereals. In addition, it is worth taking a closer look at the fast and healthy food chain "Eurohata" - flavor enhancers and semi-finished products are not used here. And by visiting the "Vinaigrette" cafe, you can have a hearty lunch in the range of $ 8-9 - guests here are treated to salads, hot dishes, snacks and desserts.
In search of a budget food establishment, you can visit the Chinese Express bistro - Chinese manti here cost $ 2.5 / serving (4 pieces), and Peking duck - $ 1.8 / 100 g. In the center of Kiev, you can eat cheaply in the sandwich bar "Sandwich Snack" - here you can order both ready-made (pansky, chicken deluxe, tbilisi, forester) and a sandwich "assembled" from different fillings at your discretion (for this you should order from the seller all kinds of ingredients that you will see in the window).
Where to eat deliciously in Kiev?
"Veranda on the Dnieper": this restaurant specializes in Eastern, Russian, Ukrainian, European cuisines. There is a grill menu and a variety of drinks..
Claude Monet: This restaurant has a menu of European, French and Italian cuisines. Here you should try risotto, rack of lamb, crepe with pork. Here you can have a full breakfast and lunch, and enjoy a sumptuous dinner. It is worth noting that for couples in love, the restaurant staff offers to settle in the "Romantic" zone..
Mayachok: This restaurant specializes in Greek and European cuisine. There is a vegetarian, children's, dessert menu, cocktail menu, live and background music. Here you should definitely try pike caviar and calf tenderloin on a stone with homemade potatoes. Workshops for children are held in this institution on Sundays..
"Hulianka": this authentic restaurant serves homemade Ukrainian cuisine - rich borscht, fragrant dumplings with steamed cabbage and others. The institution plays live music (at will, the musicians will perform compositions of different styles).
Gastronomic excursions in Kiev
As part of the gastronomic tour, you will visit a wine cellar located in the historical center of the city, hear a story about Ukrainian winemaking, taste wines from the best Ukrainian producers (if you wish, wine tasting can be combined with a tasting of Ukrainian cheese).
You can easily solve food issues in Kiev - the city has both expensive and moderately priced restaurants, as well as cheap cafes and eateries..
Photos