Tours to Kiev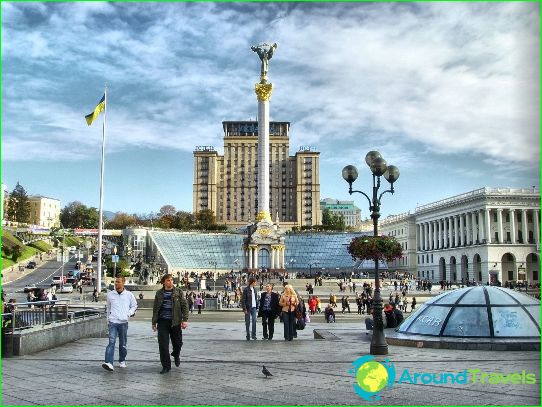 A trip to the capital of Ukraine has always been an event for a person who cares about the memory of their ancestors and the history of their native country. It is not for nothing that this city is called the mother of Russian cities, because it was Kiev that for a long time served as the political center of the Old Russian state. Today, the capital of Ukraine is considered their home by at least four million people, and tours to Kiev are an excellent opportunity to touch the history of Ancient Rus and feel the spirit of a large and beautiful city, over which neither time, nor wars, nor political battles have power..
Briefly about the important

The most favorable time for a tour to Kiev is undoubtedly spring. It was then that the famous chestnuts bloom on Khreshchatyk and the heady aroma of nature reviving from winter sleep floats over the city. The temperature in May stably reaches +25, rains are short and rare. In the midst of winter, the thermometer may drop to -20, but this is rather an exception and Christmas Kiev is also a good reason to go on a trip.
There is an international airport in the capital of Ukraine. Another way to get to Kiev is by rail.
The easiest way to get around the city is by metro. There are three lines in the city, and the Golden Gate station is on the list of the most beautiful in the Old World.
As part of a tour to Kiev, it makes sense to plan a visit to one of the 25 city theaters. The most famous are the Theater of Russian Drama. Lesia Ukrainka or National Academic Opera and Ballet named after T. Shevchenko - are rightfully considered scenes of world significance.
Pilgrimage trips
For tens of thousands of travelers, tours to Kiev are an opportunity to visit religious shrines that are important and significant for any Orthodox person. The first stone church after the baptism of Rus was built in the 10th century in the capital of present-day Ukraine, and today one of the most magnificent structures here is the Kiev-Pechersk Lavra..
Monasteries, which can be visited during a pilgrimage trip, are located both in the city itself and in the immediate vicinity. The list contains dozens of names, but the most famous are Florovsky and Vvedensky, Panteleimonov and Svyato-Troitsky. Pilgrims come to Goloseevskaya and Kitaevskaya deserts, and in the Church of St. Cyril of the 12th century they worship the grave of Prince Svyatoslav Vsevolodovich, the hero of "The Lay of Igor's Regiment".
Photos