Excursions in Kiev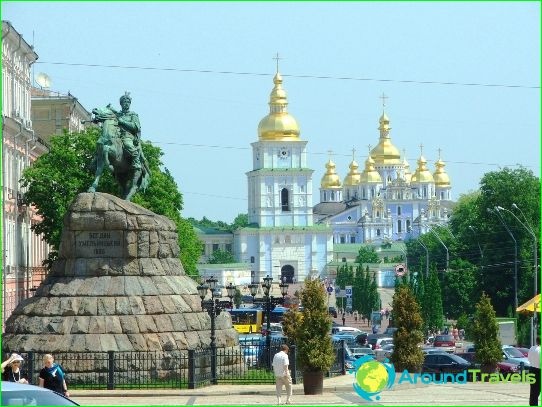 The Ukrainian capital is a city, as if specially built for a good rest, for measured walks along the high bank of the Dnieper. You can feel this by visiting the park area that stretches along the great river. There are many viewing platforms with amazing views. They are so interesting that they can become the topic of a separate excursion in Kiev..
Kiev landmarks
And what about the old metro bridge connecting the right bank and Hydropark, located on the islands of the Dnieper. Where the automobile section of the bridge descends, trains continue to move along the road, standing on tall columns, which resembles a Japanese monorail. This is exactly the case when you can take the metro directly to the beach recreation area. And it is all the more surprising that all this was built during the Soviet period. However, the new metro bridge can also be called a landmark of Kiev. The pedestrian suspension bridge can also lead vacationers to the same Hydropark. In fact, this bridge is a small copy of the Crimean bridge in Moscow, and other suspension bridges of this design. But the cable-stayed bridge through which the Moscow highway passes at one time was considered the most prominent achievement of the glorious Kiev bridge builders.
However, in addition to wonderful bridges across the Dnieper, Kiev is literally replete with monuments of antiquity and modern history, the central place among which is occupied by monasteries. This is the world-famous Pechersk Lavra, and the Vydubitsky monastery hidden in the greenery of the tract. If we continue the story about the Orthodox architecture of the Ukrainian capital, then we cannot fail to mention the most beautiful St. Andrew's Church, which rises on one of the hills of the city. Made in the Baroque style, it is invariably elegant and majestic. In beauty, the St. Michael's Golden-Domed Cathedral can compete with it. The famous St. Sophia Cathedral is striking in its solidity, next to which you can see the emblem of Kiev - a monument to Bogdan Khmelnitsky.
Another remarkable monument of antiquity is the Golden Gate. They were once built like a Byzantine gate and literally lay in ruins for many years until they were authentically restored according to ancient drawings..
The historical appearance of the capital was also created by many buildings of the Soviet era. For example, Stalin-era houses on Khreshchatyk, which are in perfect harmony with the buildings of past centuries.
However, it is very difficult to list all the numerous attractions of such an ancient city as Kiev. Therefore, sightseeing tours in Kiev cannot always cover everything worthy of the attention of tourists..
Photos of excursions in Kiev