Things to do in Ho Chi Minh City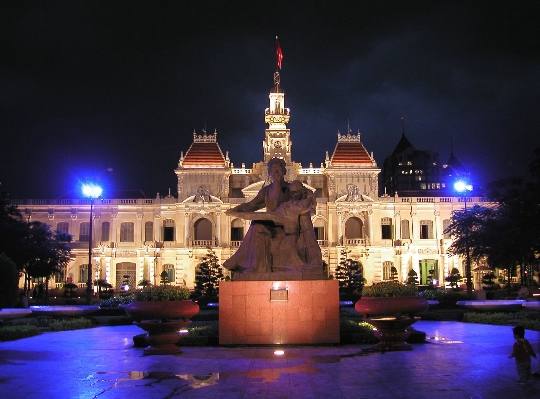 Entertainment in Ho Chi Minh City is both exploring interesting sights and visiting all kinds of entertainment venues.
Amusement parks in Ho Chi Minh City

"SuoiTien": here you can not only ride various carousels ("Boats", swinging 360˚, "Roller coaster") and quad bikes, but also see fountains, Buddhist statues, temples and pagodas, walk along alleys with fountains and a garden of dinosaurs, look at the Crocodile Farm.
"DaiNam": This amusement park has numerous attractions, the Labyrinth of Fear, a cinema, a water park, a zoo, gastronomic establishments specializing in different cuisines of the world. You can ride a free bus or train through the park, as well as use the services of a rented bike..
What entertainment in Ho Chi Minh City?
If you are attracted to visiting unusual events, be sure to visit the Puppet Theater on the Water - you will see a performance, the plot of which is based on Vietnamese folk tales, accompanied by orchestral music.
Of the nightlife, you should pay attention to "Heart beat saigon" (modern music + incendiary discos), "Lush night club" (on Fridays and Sundays, the club hosts hip-hop parties, and on Saturdays they dance to funk music), "Saxn' Art Jazz Club" (lovers of jazz music will like to relax here).
If you are an active traveler, on vacation in Ho Chi Minh City, you should do the exploration of the Cu Chi tunnels (you will be offered to get here by bicycle) - walk along them, and an experienced guide will help you learn interesting facts about Vietnamese guerrillas. In addition, for a fee, everyone here is offered to shoot at targets (for this purpose, Kalashnikov assault rifles are issued).
An unusual entertainment can be attending culinary courses - here they will reveal the secrets of cooking and teach you how to cook popular Vietnamese dishes.
Activities for kids in Ho Chi Minh City

Aquapark "Dam sen": children and their parents will find cozy cafes and restaurants, numerous attractions, pools, slides, waterfalls, a river with an artificial current, a jacuzzi, sun loungers on which you can bask in the sun after being in the water.
Ho Chi Minh Zoo: young visitors will be able to see snakes, reptiles, predators kept in special enclosures (they are separated from guests by durable glass). As for other animals, they freely walk around the zoo, so those who wish can take pictures with them and even pet them..
There is always something to do in Ho Chi Minh City: designer boutiques and bustling markets, luxury hotels and budget guesthouses, Mekong River cruises, safaris.
Photos