Metro Porto Alegre: map, description, photos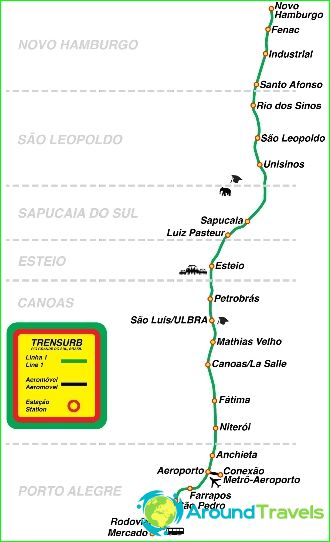 The Porto Alegre Metro was opened in 1985. At the beginning of 2014, the metro is one 43.4 km long line with 21 stations. Passenger traffic averages about 170 thousand passengers per day. The average distance between stations is 2 km, the average train speed is 50 km / h, the maximum train speed is 80 km / h.
The construction of the first metro line in Porto Alegre began in 1980. the metro under construction was faced with the task of connecting the center of Porto Alegre with remote areas in the north of the city. as well as the suburbs: Canoas, Esteio, Sapusaya do Sul, San Leopoldo and Novo Amburgo. The choice of this direction was made to facilitate traffic on the congested BR-116.
The first section of Line 1 was opened on March 2, 1985, between Central Public Market and Sapucaia do Sul stations. In December 1997, the line was extended to Unisinos station.
The 3.8 km extension to the Museum of San Leopoldo was completed in November 2000. Passenger traffic began after two months of test operation.
The next 9.3 km and three new stations Novu Amburgu should open in 2014.
In August 2013, a fully automated kilometer-long line was completed between Aeroporto station and the first terminal of Filho International Airport. When transferring to this line, passengers do not need to purchase an additional ticket. Travel time is 90 seconds.
Photos of Porto Alegre metro