Croatia flag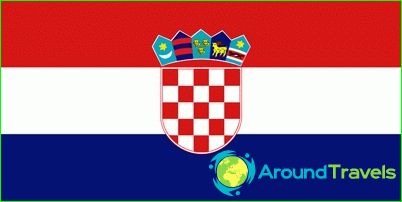 The national flag of the Republic of Croatia is its integral national symbol, like the anthem and coat of arms.
Description and proportions of the flag of Croatia
The Croatian flag is a standard rectangular piece of cloth, the length of which refers to its width in a ratio of 2: 1. The colors of the flag are designed in classic Slavic shades. It is a horizontal tricolor, the stripes of which are equal in width. The order of their sequence on the flag of Croatia is as follows: a blue stripe is located at the bottom, then a white stripe, and the topmost one is red.
In the center of the Croatian flag is its coat of arms. It is a shield that is divided into staggered white and red squares. There are 25 of them in total, five in each row. On top of the shield is a crown, each of the five teeth of which is the historical coat of arms of one of the geographical formations: Croatia, Dubrovnik, Istria, Slavonia and Dalmatia.
History of the flag of Croatia
These colors are really traditional for Croats, and the history of the country suggests that their national clothes were designed in such colors. The galloons, which were used to embroider the braid of men's woolen jackets, were red-white-blue. It was this gamut that dominated the outfits at the inauguration of the Croatian bans - the rulers of the lands and regions..
The first to combine these three colors in his outfit was Josip Jelačić, the ban who came to power in 1848. His contribution to the state's independence from Hungary and the preservation of the national heritage gave the starting point for the use of the three-color symbol of the country. Now the tricolor means the integrity and indivisibility of the Croatian lands and people.
The chessboard on the coat of arms, according to legend, appeared after the game played by the king of Croatia with the Venetian doge in the 10th century. The winner received the right to own the cities of Dalmatia, and the outcome of the game can be easily guessed by the red and white squares on the coat of arms and flag of Croatia.
The image of the coat of arms appeared on the flag of the state only in 1939. Until that time, it was a simple tricolor. In 1945, the coat of arms was replaced by a red five-pointed star due to the entry of Croatia into the FPRY. In 1947, the star received a gold edging, and in this form the flag of Croatia existed until 1990. Then, upon gaining independence, the star was removed from the flag, a shield took its place, and a few months later - a full-fledged Croatian coat of arms.
Croatia flag photos