Traditional Croatian cuisine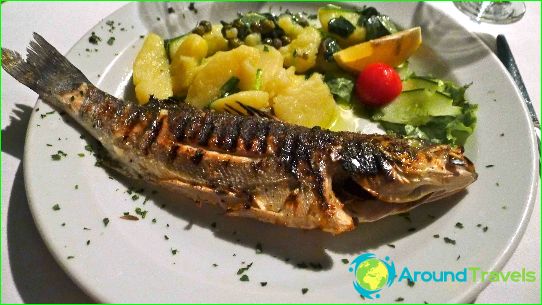 Food in Croatia is a paradise for food lovers: in restaurants you will be fed with excellent meals of a huge size (it happens that a family of 3 can fill up with 1 serving).
If you decide to cook your own food, then this is not a problem in Croatia: the products in local stores are of high quality, and the prices are lower than Western European ones..
Food in Croatia
Depending on the area of ​​visit, in Croatia you can taste various traditional dishes: in the eastern regions - spicy sausages (cobanac), in the central regions - macaroni and cheese and baked turkey, coastal - fish and seafood dishes, in the mountainous regions - mushroom and meat of wild animals and wild berries.
Arriving in Croatia, you will have the opportunity to taste prosciutto (homemade cured meat), kulen (spicy Slavonian sausages with paprika), light soups, escalope, dishes with truffles, lamb cooked on a spit, bakalar (dried cod), sarma (stuffed cabbage, prepared on the basis of sauerkraut leaves and minced meat with the addition of prosciutto and panzeta).
Where to eat in Croatia?
At your service:
- restaurants (here you will find all the cuisines of the world);
- family restaurants of local cuisine (konoba);
- cafes, pastry shops and pubs.
Drinks in Croatia
Popular drinks in Croatia are coffee, tea (herbal, Indian, floral), wine, rakia (local brandy based on plums, figs, grapes, other fruits and herbs), Pelincovac (bitter herbal liqueur), beer (Tomislav pivo, Karlovacko, Velebitsco).
Croatians have a special love for wine: red wines should try Dingac, Plavac, Postup, and white wines - Malvazija, Muscatel, Posip, Grk.
Gastronomic tour to Croatia
Foodies can travel to Croatia, namely to the city of Zagreb, to attend an event such as Restaurant Week: they can taste delicious Croatian cuisine in the best restaurants in the city for less than the usual cost..
Since the city of Pirovac is considered the most culinary city, if you go here, you can taste many delicious dishes in interesting local restaurants, which host a show of chefs on Saturdays..
If you wish, you can go to the island of Lošinj for a culinary festival in order not only to taste aromatic dishes, but also to attend additional events - at seminars of Croatian cuisine, in gastronomic walking tours and at wine presentations.
In Croatia, you can have a great time in resort towns, enjoy delicious cuisine from local chefs, drink heady cocktails in local bars, have fun at incendiary parties in trendy clubs ...
Pictures of Croatian national dishes