Resorts of Croatia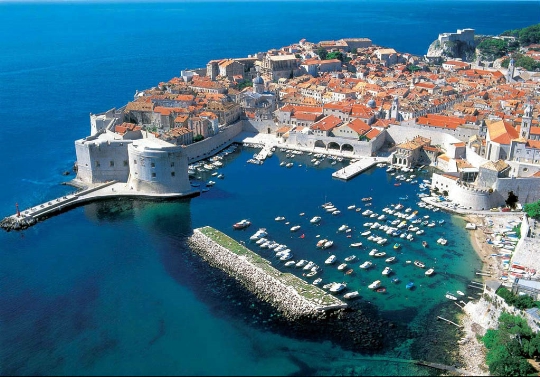 Even the ancient Romans built summer residences in these parts for their emperors, and they knew a lot about pleasures! It is not surprising that the resorts of Croatia are becoming the center of attraction for those who want to spend their holidays in comfort and pleasant landscapes. Beaches and mountains, virgin nature and excellent cuisine, high-quality hotels and quite affordable prices - all the advantages of a vacation in Croatia are much easier to appreciate when you arrive in this blessed land..
Always in the TOP
The comfortable climate and amazing natural beauty attract fans of quality beach holidays to the resorts of Croatia without noisy animation and breaking tables from all inclusive. The most popular beaches here have repeatedly become holders of the prestigious Blue Flag Certificates, and their geographical coordinates are very easy to find on any map of the country:
The region of South Dalmatia is a constellation of magnificent resorts in Croatia, including Dubrovnik and Cavtat, Korcula and the Kolocep islands. Cypresses, laurels and Mediterranean pines saturate the air with magnificent aromas, the infrastructure and service are fine-tuned, and the sea in the Dubrovnik area is perfectly clean.
Gourmets and fans of historical sights flock to Central Dalmatia. Among the best resorts in Croatia in this region are the city of Šibenik and the island of Brac. Sibenik is unique for its location - here you can sunbathe and swim on the sea, on the lake, and on the river beaches, and the local cathedral has a thousand-year history. Grapes and olives are grown on the island of Brac, and local restaurants are especially appreciated by fans of Mediterranean cuisine..
On the Istrian peninsula, tourists have their own favorites. The local resorts of Croatia are more suitable for active travelers. Guests of Porec and Pula, Opatija and Rovinj can diversify their beach holidays with active water sports and sightseeing excursions. The best wines of Croatia are also made in Istria, which adds to the popularity of this region..
Chasing adrenaline
However, the winter resorts of Croatia attract no less guests, and here you can fly with the breeze along the ski slope in the towns of Sleme and Platak. The prices for equipment rental and instructor services in Croatian resorts are very humane, and the quality of the preparation of the tracks is at the European level. Skiers in Croatia have the opportunity to try their hand on the "green" slopes and try their luck on the "black" slopes for real pros.
Croatia - sights and cities

Photos