Holidays in the Dominican Republic in October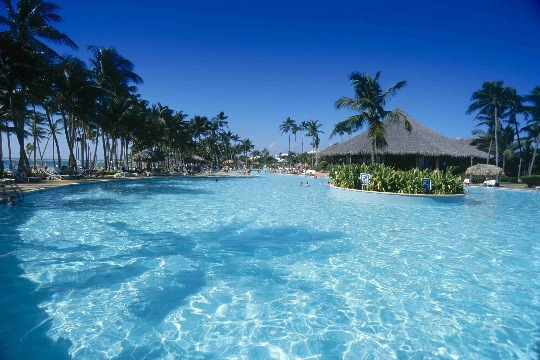 Only positive reviews and exclamations of admiration can be heard from tourists who have already paved the way to the Dominican Republic. Gold beaches and azure of endless ocean distances, colorful flocks of amazing parrots and mesmerizing rhythms of merengue, interesting museum exhibitions and exhibitions created by nature itself. All this can be contemplated by courageous tourists who are sure that holidays in the Dominican Republic in October cannot even be compared with anything..
October weather
An amazing thing, with the arrival of autumn, the tourist season is considered almost over in the world, and in the Dominican Republic, on the contrary, preparations for the influx of tourists begin.
The typhoon period is a thing of the past, and the air temperature drops to a more comfortable one, in the daytime +30 ° C, at night +22 ° C, water +26 ° C. Rains and thunderstorms have divided the day among themselves, the former start in the morning, the latter come in the afternoon. On dry, sunny days, tourists occupy the coast, enjoying every minute of the sea..
A resort for romantics
This is the famous resort of La Romana, already in the name of which you can catch a hint of a romantic date or a real romance. On the beaches you can meet couples in love of all ages, newlyweds and celebrated the glorious anniversary dates of their life together.
Holidays in Punta Canta
This is one of the most popular Dominican resorts, as if stepped off the cover of a bar «Bounty». The long coastline is dotted with hotels, each decorated with five stars and offering a variety of services. And additional fame is given to the place by national parks, in which you can see thickets of mangrove forests, amazing reptiles and birds..
Dominican souvenir
Holidays in this country are wonderful, but many would like to preserve the memory of the chic days spent here and pamper their relatives with lovely gifts. Since the Dominican Republic is part of the Caribbean Islands, coffee becomes the most popular and delicious gift, a sip of this aromatic drink instantly awakens memory and memories of the rest..
Male family members will be delighted with cigars, local varieties are not much behind their Cuban counterparts in quality, the technologies for their production are the same (hand rolling).
Women will be delighted with the larimara, this name was given to a semi-precious stone common in the Dominican Republic. The entire palette of blue shades will allow you to choose the jewelry in the color of your eyes. There are expensive gold larimar jewelry options and budget options when using non-precious metals..
Photos of rest in the Dominican Republic