Metro Monterrey: map, photo, description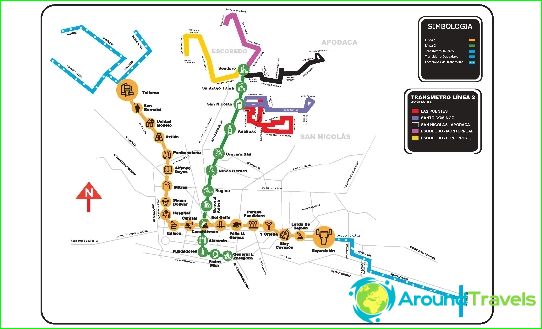 The capital of the Mexican state of Nuevo León is a metropolis with four million inhabitants, and the metro plays an important role in the public transport system. It is the newest metro system in the country and is a light rail. More than 300 thousand people use Monterrey metro services every day.
The first stage of the metro was launched in April 1991 by line number one, which runs from the northwest of Monterrey through the center to the east. Its length is 18.5 km, and it is laid parallel to the tram lines, which were used by the townspeople earlier. All paths of the first line are ground, and the trip along the route from the starting station to the final one takes a little less than half an hour..
In the city center, from line 1, you can make a transition to the second line of the Monterrey metro. Its first six stations were opened for passenger entry and exit in 1994. Then the construction continued, and today the total length of the city's metro lines is 31 km, and 32 stations are working for the needs of the citizens and guests of Monterrey. Stations in the city center and tracks are mostly underground, while ground stations are located on the outskirts. The Governor of the State, Natividad Gonzalez, is invariably present at the opening of new Monterrey metro stations. In 2008, President Felipe Calderón of Mexico took part in the ceremony during the commissioning of four new Line 2 stations..
The Monterrey Metro has largely solved the problems with busy city traffic, but traffic jams in the city remain and increase every year. That is why, in the plans of the government of the state of Nuevo Leon, a special point is the continuation of work on the construction and commissioning of new stations and metro lines in Monterrey.
All stations of the Monterrey subway are equipped with air conditioning, and the lines for the convenience of passengers are marked in two colors: the first is yellow, and the second is green..
Monterrey metro opening hours
The metro operates from 5 am to midnight daily. The average train interval is about four minutes during peak hours and up to 7 minutes during the rest of the day..
Metro tickets Monterrey
The cost of a single metro ride in the city is 4.5 pesos, or approximately $ 0.34. Passes are issued for a different number of trips from 15 to 85 and are cheaper. For multiple trips, it is worth purchasing MIA cards, which cost 30 pesos and have 8 included trips. Cards can be topped up in cash to extend their validity.
Photos Metro Monterrey