Observation decks of Adler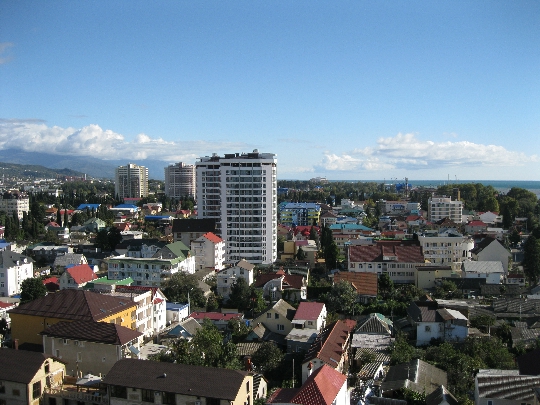 Those who have climbed the Adler observation platforms will be able to look at the central embankment, sailing pleasure boats, and the park from a new angle. "Southern cultures", Agur waterfalls and other objects.
Observation deck of the railway station
Inside, you can spend time in recreation areas or cafes, and from the sea side of the station you can find an observation deck: from here you can admire the sea coast.
How to get there? From the airport there are buses No. 135 and 105; from Kurortny town you can take a minibus No. 117, 124, 60 or bus No. 125 or 105.
Address: Lenin street, 113
Mount Akhun
At its top, travelers will find an observation tower located at an altitude of more than 600 m - from here they will be able to admire the Black Sea coast, Sochi and Adler. A visit to the museum, the exposition of which is dedicated to the local flora and fauna, and the observation deck will cost guests 100 rubles (this also applies to children's tickets - with the exception of children under 7 years old: they have free admission).
It's easy to get here if you hit the road as part of an excursion group (bus excursions are regularly organized).
A restaurant "Art Classic"
The institution invites guests to try Russian, European and Caucasian cuisine, sitting on comfortable and soft sofas, attend cultural events (poetry, charity, evenings of classical music), and admire the panorama overlooking the mountains and the Olympic Park from the 2nd tier of the restaurant..
Address: Aviation Street, 32/3 (4th floor).
Guest House "Green corner"
Staying in this guest house, guests will have the opportunity to go up to the 4th floor, where there is a covered observation deck (from here you can admire the whole of Adler and the sea) with tables and a hammock (here you can take a break, enjoying the local beauties after taking water procedures).
Address: Leskova street, 8; website: www.ugolok-adler.ru
Ferris wheel in an amusement park "Seaside"
From a 50-meter height (a full revolution takes place within a quarter of an hour; the attraction operates all year round), while inside a closed glazed cabin (equipped with comfortable tables), guests will be able to admire the best views of Adler and its environs, and even see snow on the mountain tops. Those who wish can pay for several circles at once to arrange for themselves and their other half a romantic adventure in the sky over the city. Ticket price - 250 rubles / adults, 150 rubles / children.
Address: Prosveshcheniya street
Other options
Adler's guests, if they wish, can go to the Akhshtyrskaya cave (15 km from the city; there is an observation deck nearby, from where they can admire the gorge and the river), as well as drive along the Adler - Krasnaya Polyana highway (passing by a wooded and mountain-wooded area, they will be able to admire all this splendor).
Photos