What to do in Anapa?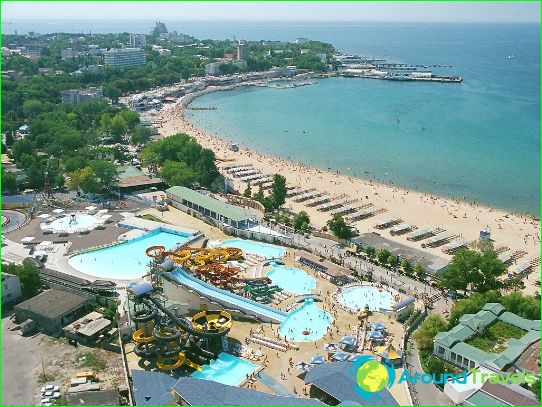 Anapa is a Russian resort on the Black Sea coast, ideal for families with children (clean sea + sandy beaches), health improvement (the presence of therapeutic mud, mineral water springs, balneological centers), as well as youth recreation (rich nightlife, sea fishing, diving).
What to do in Anapa?

Visit the open-air museum - Archaeological complex "Gorgippia" (modern Anapa is located on the site of the ruins of an ancient Greek city);
Enter the temple of St. Seraphim of Sarov;
Look at the Anapa lighthouse;
Visit the Serpent Lake, which is located near the village of Bolshoy Urtish (here you can rent a yacht or catamaran and ride on the lake);
Go to the sanctuary "Big Urtish";
Fishing in the carp farm "Red hill" (village Gostgaevskaya).
What to do in Anapa?
You should start your acquaintance with Anapa with a walk through the city center, where there is a lighthouse, a water park, an embankment with flower beds ...
With children, you can go to the Chapito circus to watch the performance given by trained animals and visit the dolphinarium (you will watch the fun play of dolphins).
Anapa will appeal to lovers of pebble and sandy beaches. In addition, the resort has water parks "Golden beach" (Dzhemete district) and "Anyway" (Pionersky prospect).
Lovers of calm and unhurried walks can go to "Alley of Love", and those who want to experience the thrill - to fly on a paraglider.
Those who came to Anapa for treatment can undergo a session of ampelotherapy (grape treatment) and mud therapy (therapeutic hydrogen sulfide mud can be found on the Chumburka and Solenoe lakes, as well as in the Vityazevsky and Kiziltashsky estuaries).
Those wishing to have an active holiday with children should definitely visit the water-ski park - here you will learn how to ski on the water or go on a boat trip, and children can play in the playgrounds and jump on a trampoline.
You can do archery and crossbow shooting at the shooting range, go on a sport fishing, play paintball - you can in the amusement park "brave Heart" (Sukko Valley). There is also a rope town where children and adults can climb rope bridges and crossings (there are trails of all difficulty levels).
The evening can be spent in nightclubs and discos, for example, "Riviera" or "Mabi", where you can not only dance, but also play bowling.
You can get acquainted with the flora and fauna of the Black Sea by going diving. So, it is worth taking a closer look at the southern part of the resort - it is famous for its rocky bottom with great depths, underwater rocks, where you can meet crabs, mussels, rapa.
Arriving on vacation in Anapa, you can visit the Lotus Valley, the castle "Lion head", where real knightly tournaments, dolphinariums take place, relax on the beaches and in water parks.
Photos where you can go in Anapa