Things to do in Anapa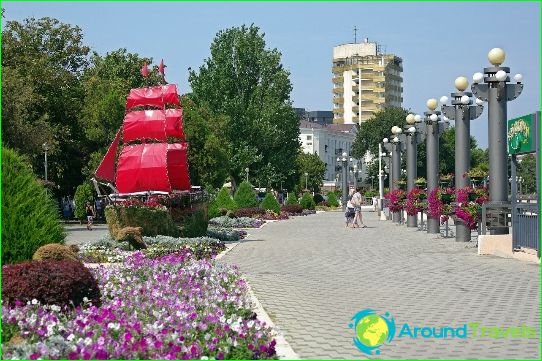 Entertainment in Anapa is an interesting pastime in water parks, dolphinariums, leisure centers, at Auto Moto Show (stunt show) and in ATV safari (contact the club "Quadro").
Amusement parks in Anapa

"Park Extreme": in this amusement park you can look into a torture museum or pottery workshop, shoot a crossbow (there is a Robin Hood shooting range), visit the stable and watch a horse stunt performance "Knights show" (fights with the use of cold weapons, stunts performed on horseback, fire show).
Water-ski park "Sea of ​​pleasure": all its guests are offered training and kite and water skiing. Notifying the staff of the park about the desire to capture their stay in this amazing place, they will gladly take a picture of you and even shoot you on video.
"Byzantium": in this amusement park there will be no time for children or adults to be bored - there are attractions designed for all age groups, as well as a children's room, cafes, souvenir shops.
What entertainment in Anapa?
As entertainment, you can go on an organized fishing trip, after which you will be offered to cook the catch you caught; go diving or parasailing; go for a ride on a sailing yacht (on such an excursion you can swim during a stop).
Do you like to spend time at discos? At your service - a night club "Mabi" with its high-quality technical equipment, rich program, interesting music, and "Dancy" (this club hosts foam parties, cryogenic shows and showers "Charcot" from natural champagne).
Entertainment for children in Anapa
A great place to spend family leisure with children is the water park "Golden beach" (it works from the end of May to the end of September). Here you can sunbathe on the sun loungers, slide down any of the slides and ride such attractions as "Treasure Island", "Yellow River", "Sailor", "Aladdin's lamp". In addition, there are swimming pools, bridges and fountains..
In the Oceanarium, kids will love not only the dolphin show, but also the opportunity to swim in the pool with dolphins.
The Anapa Zoo will acquaint young visitors with ostriches, talking parrots, squirrels, kangaroos, red-eared turtles, pheasants and other inhabitants..
If you decide to visit the Crocodile Farm with your children, you will be able to see not only crocodiles, but also snakes and insects, as well as stroll through the Butterfly Garden. It is worth noting that a turtle and a crocodile are arranged here for the kids. "fishing".
When making a list of entertainment when planning a vacation in Anapa, do not forget to include in it such an item as visiting the Exhibition of Moving Dinosaurs (a Hasmosaurus, Stegosaurus, Tyrannosaurus and others will appear before you).
Photos