Children's camps in Gelendzhik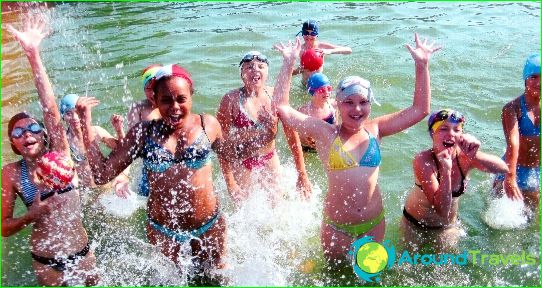 Gelendzhik is considered one of the most comfortable and picturesque resorts in the Krasnodar Territory. More than 50 children's camps function on its territory. The Gelendzhik resort area also includes the following settlements: Divnomorskoye, Kabardinka, Arkhipo-Osipovka, Praskoveevka, Betta and Dzhanhot. Children's camps and sanatoriums are scattered throughout the Gelendzhik region. The best places on the coast are selected for children's recreation. The resort town itself is located on the shores of a beautiful bay, which is surrounded by mountain slopes..
Advantages of children's camps
Sending a child to the Black Sea coast is a great idea that is easy to implement. It is enough to contact the travel agency to find the best option. Children's camps in Gelendzhik have good reviews from parents. The guys who came on vacation visit interesting places in the region. These include the dolphinarium, water parks («Golden Bay», «hippopotamus», «Dolphin»), Safari park, attractions, etc. The city has an 80-meter Ferris wheel, which was recognized as the largest in Russia. It is 5 m higher than the capital's wheel. Beach rest is the main advantage of the resort. The beaches here are covered with pebbles, but the seabed in the bathing area is covered with sand. The moderately deep slope makes the beaches very comfortable for children to swim. The purity of sea water in the Gelendzhik region has been proven by numerous studies. Special services regularly make water samples. Today the water in the bathing zone of Gelendzhik is 20 times cleaner than the accepted norms.
Leisure excursions
Children's camps in Gelendzhik include a variety of programs, including excursions. There are a lot of interesting places in the area. The city has a very beautiful embankment. She was recognized as one of the best on the Black Sea coast. Vacationers walk along it, breathing in clean air and enjoying the sound of the sea. The surroundings of the resort are also very interesting. Children visit dolmens located on the Mikhailovsky Pass and on the Zhane River, Bigius Waterfalls, museums and other places. A trip to the Safari Park is a particularly exciting experience. There you can see wild animals in their natural habitat. The longest cable car runs right above the park. From there, from a bird's eye view, the entire city is visible. Gelendzhik is located near Novorossiysk, Kabardinka and other cities. Children vacationing in children's camps have the opportunity to visit the unique places of the Krasnodar Territory.
Photos of children's camps in Gelendzhik