Beaches in Sochi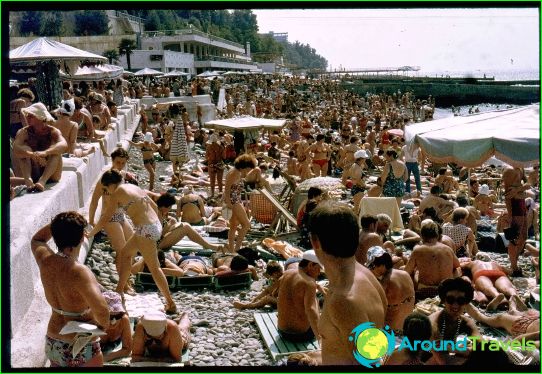 A popular summer vacation for the average Russian resident is, of course, a vacation in Sochi. There is a huge variety of sanatoriums and boarding houses to suit every budget. Beautiful landscape, the opportunity to choose a vacation «affordable» and the wonderful sea make holidays in Sochi one of the most desirable events for Russians throughout the year. However, before traveling to these lands, you should clearly understand the level of prices, your own preferences and expectations from the rest, and on the basis of these factors, choose a place for rest..
Beaches of New Sochi
Many beaches in Sochi are closed and privately owned, so you need to pay a reasonable amount to get there. Just from such a beach - summer cottages «Bocharov Ruchey», which is state property - and the territory of the beaches of New Sochi begins. Immediately behind it there is a good beach of the sanatorium «Belarus». It is very beautiful and modern here, and vacationers are provided with everything they need for the most comfortable and productive stay. At the service of vacationers are provided showers, changing cabins, umbrellas, sun loungers, soft sun loungers and much more..
Unfortunately, the entrance to the beach is possible only for vacationers of the sanatorium, but for this reason there is rarely a full house here. Sanatorium «Belarus», like many other sanatoriums on the territory of Sochi, it is ideal for relaxing with the whole family.
The following beaches are also considered popular in New Sochi:
«Albatross» - free city beach with all the necessary inventory and equipment;
sanatorium beach «Rus», divided into several sectors;
sanatorium beach «Rainbow» only for hotel residents «Rainbow».
The beaches of the center of Sochi
The best sandy beach of Sochi, located on the territory of the hotel, is considered very high quality and modern. «Star». The beach can be given the same rating as the hotel - 4 stars. Here you can not only have a good rest, but also enjoy the inspection of the original buildings and statues. There is a playground.
Popular also «Maritime Station», known almost all over the world. Every year this place attracts tens of thousands of tourists, so sometimes there is no place at all for those who prefer a quiet and relaxing holiday with their family..
The most central beach in Sochi is the beach «Riviera». It was equally chosen by both the indigenous people and the guests of the city. It is very convenient that the beach is open to everyone. Both pebbles and sand are present here, so vacationers can choose the surface to their liking. There is an opportunity to have a snack, drink something refreshing and have fun. Vacationers can rent any beach equipment at any time.
Photos of beaches in Sochi