Tours in Sochi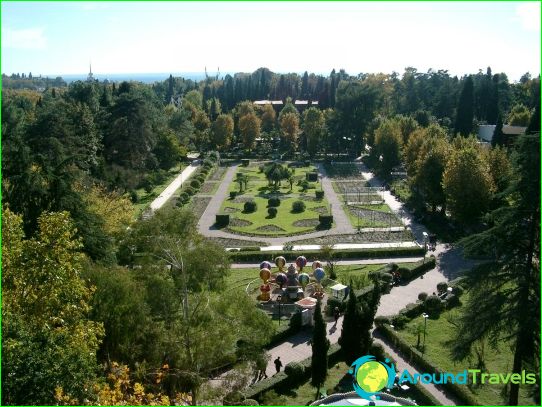 Almost every large Russian city bears the name of an unofficial capital. Sochi also received this honor: the resort is called the capital of the Russian Black Sea coast. Founded in the first half of the 19th century, Sochi quickly became the main Russian health resort. It hosted the 2014 Olympic Games, for which dozens of important sports and cultural facilities were built in the region. Today, tours to Sochi are especially popular, because now you can relax at the resort on a truly Olympic scale.
Briefly about the important
More than four hundred tourist sites have been opened in Greater Sochi. These are sanatoriums and rest houses, boarding houses and camp sites. You can choose a hotel or a guest house depending on your preferences and material capabilities. A couple of hotels within Sochi have five stars on the facade, and more than forty others are quite affordable two-star hotels..
A tour in Sochi can be booked taking into account different ways to get to the resort. The international city airport accepts flights from Moscow and other cities of the country, and trains arrive at seven railway stations from all directions.
In summer, Sochi hosts many cultural events, the most famous of which is the Kinotavr Film Festival. Another interesting event in the city is the Velvet Seasons Fashion Festival, which opens annually in the city fashion house in October.
The climatic zone of humid subtropics, where the resort is located, guarantees perfect weather throughout the beach season. The mountains close the Greater Sochi region from the wind even in winter, and in summer, due to the proximity of the sea, there is no strong heat here. And yet the optimal time for a tour in Sochi is the beginning and end of summer..
Not a single beach
After the Winter Olympics, Sochi ceased to be just a classic beach resort. Today, fans of winter sports also flock here, for whom the names of the ski resorts of the Krasnodar Territory have become synonymous with excellent rest. For an athlete, tours to Sochi are high-quality slopes, technically advanced lifts, a large selection of slopes of varying difficulty, inexpensive equipment rental and magnificent landscapes..
The builders of the Olympic facilities left comfortable hotels and entertainment centers, numerous restaurants, concert halls and shops for the guests of the Sochi resort, which now makes the summer capital of Russia the best city for spending winter holidays or vacations..
Photos