Where to eat in Sochi?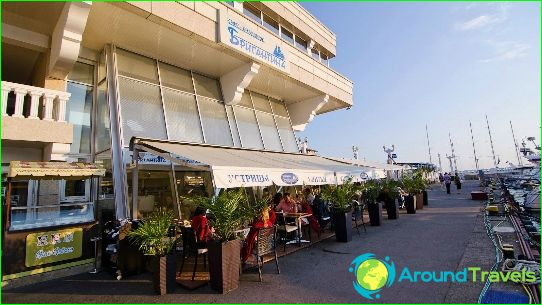 Not sure where to eat in Sochi? There are no problems with catering establishments in the city - there are various cafes, snack bars, restaurants, pizzerias, street tents ...
Where to eat in Sochi inexpensively?
You can have a democratic lunch in fast food chains: for example, at McDonalds you can eat fries, a hamburger and a glass "Coca cola" for about 150-200 rubles. You can eat hearty, tasty and inexpensive food in such highly specialized establishments as pancakes and khinkal.
There is a huge selection of caffeine in Sochi - here you can eat a fresh bun inexpensively by ordering aromatic coffee for it.
Where to eat in Sochi is delicious?

La Luna: in this restaurant (there are 4 halls, including VIP-class) you can have a hearty and tasty lunch and dinner (a wide selection of dishes and wines), enjoy live music.
Sanremo: This restaurant will appeal to lovers of Mediterranean cuisine. Here you can order barbecue and grilled fish, red mullet, mussels. Sanremo restaurant has a good cocktail card and offers hookahs and karaoke..
"Khmeli & Suneli": The menu of this restaurant is very unusual - here you can taste cheese with spruce cones confiture, Sochi trout with Armenian lavash toast, shrimp cutlets with spinach puree with chili and frize sauce, almond pancakes ... In addition, you can order more familiar dishes , such as kebabs, satsivi and kharcho.
"Clouds": This Mediterranean restaurant is worth trying the local scallops, oysters, duck, all kinds of fish. And on weekends here you can count on watching performances of Russian show business stars or participating in noisy parties.
A restaurant "Five candles": This restaurant located in the Winter Theater is ideal for a business or romantic dinner. In addition, here you can just eat deliciously and enjoy live music..

Gastronomic excursions in Sochi
Going on a gastronomic journey around Sochi, you will be offered to visit a variety of cafes and restaurants ("Calypso", "Sakura", "Christopher Columbus", "Sea breeze"), taste Georgian, Russian, Armenian, Ukrainian cuisine.
From October 20 to November 20, 2014, you can come to Sochi for the Great Gastronomic Festival - you will be able to visit institutions (participants in this event), which will offer you to taste dishes from a special menu from the chef at special prices. For example, in a restaurant "Toyhara" you can taste tuna dishes, and in "House 1934" - taste Calvados in the restaurant's cigar bar ...
In the resort town of Sochi, you can enjoy the local nature, active and sightseeing holidays, as well as excellent cuisine (in local establishments you can try dishes of different cuisines of the world).
Photos