Children's camps in Yeisk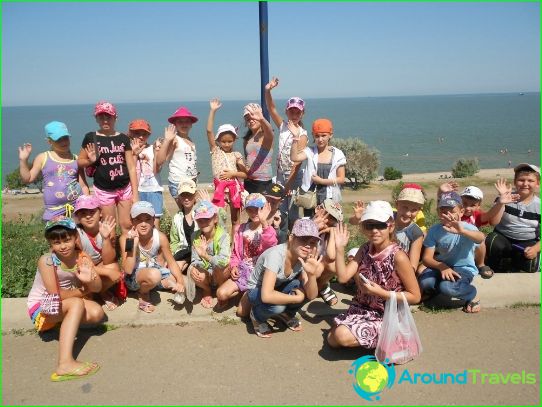 Yeisk is a famous resort on the shores of the Azov Sea. Initially it was created as a seaport, but in 2006 Yeisk received the status of a resort. Today there is everything you need for a good beach holiday. The city has a water park, oceanarium, dolphinarium, amusement park, cinemas and other attractive facilities..
Affordable rest in Yeysk
Children's camps in Yeisk offer a rich vacation at affordable prices. The cost of entertainment at this resort is also affordable. For example, a ticket to the dolphinarium costs 500 rubles, and to the oceanarium - 450 rubles. Guests of the city can watch various competitions that are held there annually. Yeisk is a resort that is ideal for families and children. The climate is temperate continental, with hot summers and mild winters. Its geographic and climatic features have made it one of the best destinations for a wellness holiday..
The resort's beaches are located on the Yeisk spit. There is sand and many shells that children love to collect. Clean, comfortable and safe beaches are the advantage of Yeisk. The beaches assigned to children's camps and sanatoriums have changing rooms, showers, toilets, umbrellas and sun loungers. The heads of the institutions are responsible for the order on these beaches..
What to do for children on vacation
The main goal of holidaymakers is to enjoy a beach holiday. School campers not only swim and sunbathe on the beaches, but also visit local attractions. These include the following objects:
Museum of History and Local Lore. Samsonov;
Memorial complex of Yeisk;
Art Museum;
City parks: them. Poddubny, them. Gorky and Nikolsky;
Churches and chapels.
Children's camps in Yeisk are located in the best places on the coast of the Azov Sea. The territory of each of them is well-maintained and guarded. The camp has residential buildings, a dining room, a private beach, sports grounds, etc. The health camps offer therapeutic and preventive procedures. There are sanatorium-type institutions in Yeisk, where children's rest is successfully combined with treatment. The best sanatoriums are located on the coast of the Yeisk estuary and the Taganrog Bay.
In picturesque places near Yeisk, there are all conditions for carefree relaxation and treatment among pure nature. Warm sea, healthy climate, sun and sea air - these factors have a positive effect on human health. Experts recommend special procedures: mud therapy, massage, hydrotherapy, physiotherapy, etc. The spa treatment in Yeisk is highly effective. Therefore, the number of people who come to local health resorts is increasing every year..
Photos of children's camps in Yeisk