Barcelona in 1 day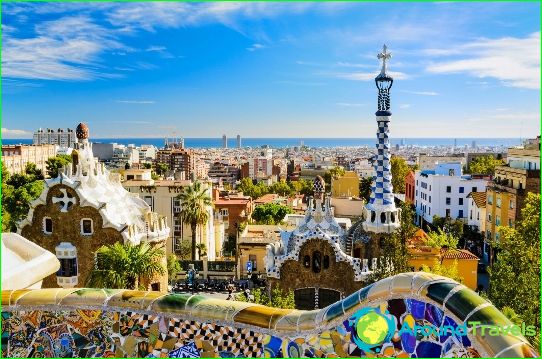 Spanish Barcelona is both a major port on the Mediterranean Sea, and the capital of the province of Catalonia, and a well-known tourist center of the Iberian Peninsula. The city is known for a huge number of architectural and historical sights, and therefore the very idea of ​​seeing the whole of Barcelona in 1 day may seem like a utopia. And yet, with the right approach to the development of a tourist route, it is quite possible to get acquainted with its main memorable places even in such a short time..
In the kingdom of the gothic
The oldest Barcelona is its Gothic Quarter. Medieval buildings are perfectly preserved here, and the chaotic planning of cities of that time amazes the imagination to this day. The crooked and narrow streets of the Gothic Quarter are mostly pedestrianized, and the houses that form gloomy corridors were erected in the XIV-XV centuries.
One of the oldest buildings is the ancient Roman aqueduct, and the most magnificent and grandiose church of St. Eulalia was completed at the beginning of the 15th century. By the way, it is she who is the cathedral, and the residence of the archbishop is located here. The temple is striking in its beauty and grandeur. Gothic lancet windows are decorated with stained-glass windows, and narrow, sharp towers pierce the blue of the sky. The main spire shot up 70 meters. The rest of the attractions of the Gothic Quarter include the town hall and the building of the Catalan government.
The central square of old Barcelona is called the Royal. It was built on the site of the Capuchin monastery that died in the fire. The main attraction of the square is the street lamps created according to the sketches of the genius Gaudí, and in local restaurants you can have a snack or drink a cup of aromatic coffee. Another useful address for those who are trying to master Barcelona in 1 day is the Four Cats coffee shop. Picasso often visited here, exhibitions of his first works at the beginning of the twentieth century were held within these walls.
Holy family
The visiting card of the city - the Sagrada Familia church - is familiar to every traveler who has visited the capital of Catalonia. The majestic cathedral is visible from different points of Barcelona, ​​and the history of its construction is unusual and amazing. The temple will be the tallest in the world when its central tower is finally completed. To get acquainted with the greatest creation of Gaudí, the construction of which has been going on for over 120 years, means to complete the maximum program "Barcelona in 1 day".
Barcelona

Photos