Barcelona symbol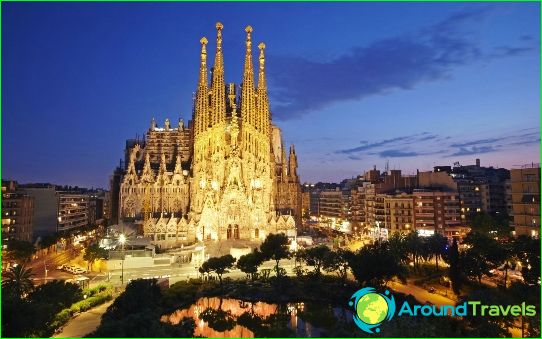 The capital of Catalonia invites travelers to "drink" a cocktail, "mixed" on the beach and exciting sightseeing holidays.
Sagrada Familia
Examining the interior of the temple - the symbol of Barcelona, ​​travelers will admire the majestic columns and intricate architecture, see the tomb of Gaudí, the architect of this project, and climb the tower to observe the breathtaking views of Barcelona. Every day excursions are arranged here, lasting less than an hour and costing 4 euros.
Useful information: entrance - 15 euros (together with the ascent to the tower, the ticket will cost 19.5 euros); address: Carrer de Mallorca, 401; website: www.sagradafamilia.org.
Columbus Column
The 60-meter monument (installed on a pedestal, decorated with bas-reliefs) pleases guests with the opportunity to visit the site, from where they will be able to admire the Ramblas, the port, the Old Town (those who wish are brought to the top by means of an elevator; a ticket costs 4 euros). And since there is a pier at the foot of the monument, if you wish, you can go on an excursion along the coast on a small boat.
Address: Placa Porta de la Pau (for tourists - buses No. 57, 38, 14, 36, 18)
Palace of Catalan Music
To contemplate the interior decoration of the hall with its colored stained-glass windows and the stage, which is surrounded by half-drawings of half-sculptures of muses, you need to go on an organized excursion (held every half hour; cost - 17 euros) or attend one of the concerts held here, having previously bought a ticket (during the break it is recommended to enjoy with a taste of coffee or sangria at a local cafe).
Address: Carrer de Sant Francesc de Paula 2.
Fountain of Montjuic
Singing fountains attract guests with their evening show with splashes, light and music (depending on the season, the show starts at 19: 00-20: 00 and ends at 21: 30-23: 00 - it lasts 20 minutes with a half-hour break, and for all this time, there is no repetition of classical melodies and world hits of pop music). It is worth noting that at the end of the La Merce festival you will be able to admire a "pyromusic" show using lasers, music and fireworks..
Address: Pl. Carles Buigas 1.
Amusement park "Tibidabo"
Since the park crowns the top of the mountain, you can get there by funicular, and at the same time admire Barcelona from above on the way. In the park (a ticket for all attractions will cost 28 euros), guests will find about 30 attractions (please the children with a visit to the museum of mechanical toys), and on weekends (in the evening) they will be able to see theatrical performances.
Address: Placa del Tibidabo 3-4.
Photos