Taxi in Barcelona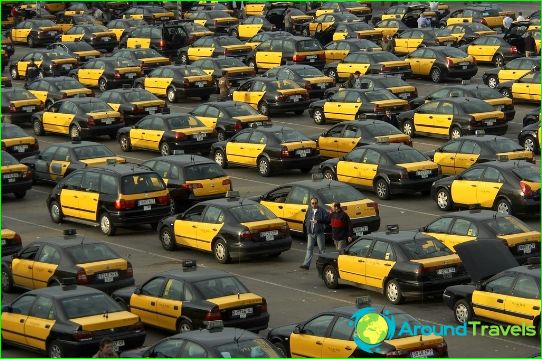 Taxis in Barcelona are represented by more than 10,000 cars. It is worth noting that many taxi drivers are private traders who have received a license to provide transport services..
The official taxi in Barcelona has been painted yellow and black. It is easy to find out if the car is free - if a green light is on at the top of the car, it means that you can resort to its services, and if not, then the taxi is busy.
Features of ordering a taxi in Barcelona
In search of a taxi, you should go to special parking lots located in popular districts of the city and near the main attractions (you need to get into the first car at the exit).
It should be noted that drivers do not carry aggressive and alcoholic passengers. In addition, they have the right to refuse to transport pets (with the exception of guide dogs).
It should be borne in mind that many drivers do not speak English, so it is advisable to have a map with a corresponding mark on it or a piece of paper with a written on it the place where you are going to go, in Spanish.
If you wish, you can order a taxi by calling: + 34-93-284-8888; + 34-93-225-0000; + 34-93-300-23-14. If the need arises, you can use a taxi adapted for disabled people: + 34-93-307-07-07, + 34-93-322-2222.
You cannot "catch" a taxi at the airport - for this you need to find the taxi ranks, which are located outside terminals T1 and T2 (when exiting the terminal building, follow the signs). It should be noted that the minimum fare from the airport is 20 euros (this price does not depend on the distance).
If you forget your things in a taxi, and remember the name of the taxi company you used, it is advisable to call there immediately. Otherwise, it is advisable to call the lost and found office: +34 (93) 210-15-64 or 010.
Advice: before getting into a taxi, you should pay attention to a sticker glued to the glass of the rear passenger door, with information on additional surcharges reflected on it.
If you do not want to be fined (the local police fines both passengers and the driver), you should not smoke, drink or eat in the taxi.
Taxi cost in Barcelona
How much does a taxi cost in Barcelona interests everyone who wants to use its services. You can find out about the approximate cost of the trip by reviewing the current tariffs:
Tariff 1 - for calling a taxi you will pay 2 euros, 1 km covered - 1.03 euros;
Tariff 2 - a taxi call costs 2 euros, 1 km - 1.3 euros;
Tariff 3 - for calling a taxi you will pay 2.3 euros, each km traveled - 1.4 euros.
Waiting costs € 21 / hour regardless of tariff.
Make sure that the meter is turned on by the driver at the beginning of the trip and off at the end of the trip. If he does not do this, you have the right to pay the fare at the minimum fare..
If you are satisfied with the service, you can leave 1-2 euros as a tip to the driver.
Looking to get around Barcelona by taxi? It is not worth "catching" a car at the station square, since many local drivers charge tourists a double or even triple price for travel..
Photos of taxi in Barcelona