Shopping in Barcelona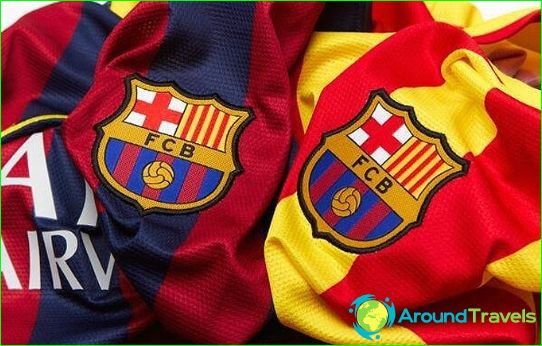 A trip to Barcelona is a vibrant and unique adventure, during which you will have an unforgettable experience. But do not forget about shopping, for which the possibilities in this city are almost unlimited. Barcelona has a great variety of shops, bazaars, boutiques, shopping centers, and more and more are opening every day. In order to plan a shopping route, you must first decide on a shopping list. So, what to bring from Barcelona as a gift to family and friends?
Original souvenirs
In addition to magnets and postcards, which are very standard souvenirs, in the shops you can find many unusual and interesting gizmos that are directly related to the culture and history of Spain..
Castanets will be a wonderful gift even for those friends or relatives who do not like to dance. This is a kind of symbol of Spain, known all over the world..
It is difficult to imagine Spain without bullfighting, so in every souvenir shop you can find ceramic figurines in the form of bulls or graceful bullfighters.
Barcelona football club merchandise will be an invaluable gift for football fans. It is best to buy such souvenirs in brand shops..
Another valuable gift from Spain is a fan or a piece of lace, as well as national costumes, but they are not cheap..
Books about the art of the architect Gaudi will be an excellent gift for lovers of architecture, design, contemporary art.
Gastronomic shopping
Your trip to Barcelona will be considered a truly successful one if you buy some authentic Spanish products. So what to buy in Barcelona for gourmets:
Olive oil is almost a must, as it is considered one of the best in the world..
Traditional spirits - sherry and Spanish wine, which are distinguished by their excellent taste.
For meat products, it is worth trying jamon, which is a dry-cured pork leg and is considered a local delicacy. You can buy it in a whole piece, or you can already cut it thinly, which is much more convenient.
Turon - national sweet with nuts and honey.
Spanish cheeses that are also of excellent quality and taste.
Barcelona is home to an abundance of brands from all over the world, as well as equally famous Spanish manufacturers. There is something to buy here - clothes, shoes, leather and fur products, jewelry, watches and much more..
Barcelona

Photos of shopping in Barcelona