Airport in Madrid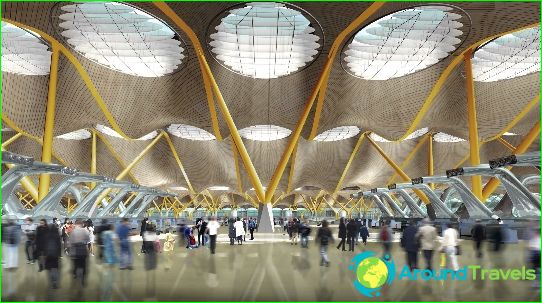 The airport in Madrid is the main international airport in the Spanish capital. It is named after the first prime minister of democratic Spain, Adolfo Suarez. The airport unites the country with almost all corners of Europe, and also operates flights to Latin America.
How to get there?
The airport in Madrid is located within the city, in the northeastern part of it. You can get to the airport by taking the pink metro line, from the Nuevos Ministerios station. The fare is 6 euros. From the main railway station on the C1 line to the "air gate" of the city, electric trains run every half an hour. Special yellow express buses also start from there, departing every fifteen minutes towards the airport..
Parking
For those arriving at the airport by private car, the airport in Madrid provides the widest range of parking services at various prices, with the possibility of pre-booking online on the website. The parking lots are located at different distances from the terminal buildings, which forms the main difference in the cost of the service. From each parking lot every 10 minutes a special shuttle takes passengers to the airport building.
Baggage
In each of the four terminals of the airport, there are round-the-clock storage rooms, as well as dressing rooms, where you can deposit outerwear for storage at pleasant low prices. In addition, not far from the check-in counters for the aircraft, there is a baggage wrapping service in a special dense film, which protects things from unforeseen contamination or damage during transportation..
Shops and services
The airport in Madrid offers a wide variety of different shops and boutiques of branded clothing both in the area before and after customs control. In addition, the terminals operate banks and ATMs, currency exchange offices, VAT refund services, as well as a post office, a pharmacy and a first aid station. It is impossible not to mention the food court, where cafes and restaurants are located, providing excellent lunches or snacks for guests and passengers..
Madrid airport photos