Prices in Madrid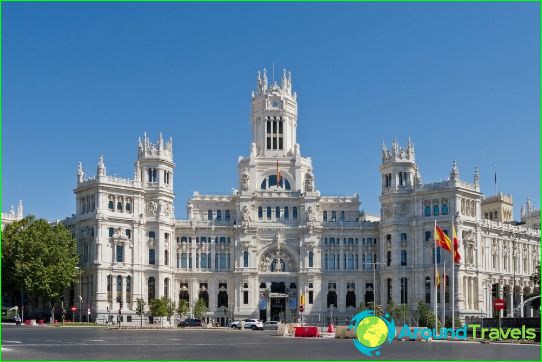 The capital of Spain, Madrid, is an attractive destination for many tourists. It is a multifaceted city with interesting architecture and ancient landmarks. Madrid is the political and cultural center of the state, however, prices remain affordable here.
Where to rent a house for a tourist
There are many upscale hotels in Madrid that offer affordable accommodation. If the budget is limited, then you can settle in one of the hostels in the city center. Madrid hotels enjoy the attention of tourists all year round. In the summer, demand for rooms tends to decline as many Europeans prefer to relax on the beaches. When planning your trip to Madrid for Christmas, book your room in advance. During this period, hotel services are in great demand.
The easiest way is to rent a bed in a hostel. The cheapest places in the city center are filled up first. A place in a simple hostel costs from 9 euros per night. If you are interested in the sights of Madrid, then it is best to rent a hotel room, which is located in the historic center. 5 * hotels provide single rooms from 350 euros per day. In a 4 * hotel you can rent a room for 55 euros per person per day. A student can live with a Spanish family for 200 euros per week. This money includes dinners and breakfasts. Young people in Madrid can stay in a student residence by paying 230 euros per week of stay.
Entertainment and excursions in Madrid
Sightseeing prices are moderate. In many museums, admission is free. In Madrid there are many architectural sites that deserve attention: Plaza Mayor, Royal Palace, Almudena Cathedral, etc. You can see the most interesting of them during a sightseeing tour. For museums, it is worth visiting the Prado Museum, the Thyssen-Bornemisza Museum and the Reina Sofia Museum. Madrid nightlife is represented by numerous clubs, restaurants and tapas bars. A shopping tour of the city starts from 100 euros. A tour of the Prado Museum costs the same amount. A trip to Toledo for 1 day costs from 370 euros. For an excursion to Valencia from Madrid for 3 hours you have to pay 600 euros.
Eating in Madrid
Madrid restaurants offer fresh and affordable food. Affordable drinks are sold on every corner. If you are satisfied with a quick snack, there are many outlets in the central part that sell freshly baked pizza for 2 euros per slice. There are many inexpensive cafes in Madrid serving Spanish national dishes. Their minus is the menu is only in Spanish. You can have a tasty meal at no extra cost in the All u can eat cafe. Paying € 9.9 per person at the entrance, you can eat as much as you want.
Photos