Independent travel to Madrid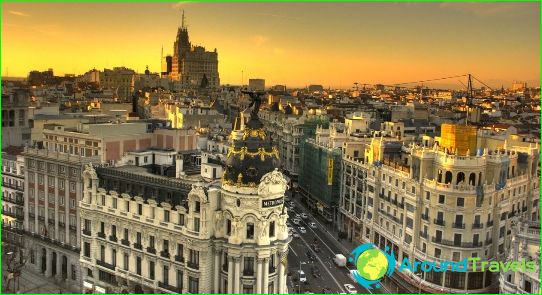 The Spaniards consider their capital to be the most beautiful city in the world and in this sense it is useless to argue with them. However, every traveler who finds himself on the land of flamenco, bullfighting and Carmen himself understands that the owners are not so far from the truth. Madrid has two characteristics: it is easy to fall in love with it and it is not easy to part with it. To experience such feelings, you just need to get Schengen and buy a ticket. The rest can be left to the city in which everyone becomes a little happier..
When to go to Madrid?
The Spanish capital is great in any season. In summer, there is intense heat that makes dazzling Spanish women wear pretty dresses. Spring is the time of blooming in Madrid's parks, and autumn is a lovely time for fans of golden leaves spinning to the rhythm of flamenco. Winter Madrid offers Christmas markets and sales and looks like a fantastic illustration of a fairy tale.
How to get to Madrid?
The international airport of the Spanish capital is located a few kilometers from the city, where several airlines make regular flights from St. Petersburg and Moscow. The easiest way to get from the airport to the center is by bus or metro. The ticket price is the same for both types of public transport. Taxi will cost significantly more, but due to the proximity to the city, the amount will not be catastrophic.
Housing issue
The hotel fund of the capital of Spain is represented by a variety of hotels - from pretentious and fashionable from expensive chains to simple and cheap bed and breakfast. Ostales hostels located in the attics of residential buildings are especially popular with independent travelers. The disadvantage of such housing is a shared bathroom, which is more than offset by more than pleasant prices per room per day. Attractive "ostales" and the fact that they are usually located in the historic center, which allows you to save money on travel in transport in Madrid.
Argue about tastes
Spanish cuisine is paella, jamon, churros donuts and more paella! It is in the homeland of the famous Spanish rice dish with seafood and chicken that you should order and taste it. Paella is best eaten in small restaurants where locals dine. Firstly, it is cheaper there, and secondly, in such establishments there are more portions and the food is tastier..
Informative and fun
Travelers' eyes run wide in Madrid: there is so much to do, hear, see and try. It is worth starting your acquaintance with the city from the main square of Madrid - Puerta del Sol. There are many famous buildings and architectural monuments around the heart of the capital. You will have to devote the whole day to a visit to the Prado Museum of Madrid, where the world's best masterpieces of painting and sculpture are exhibited..
Photos of the trip to Madrid