Transport in Madrid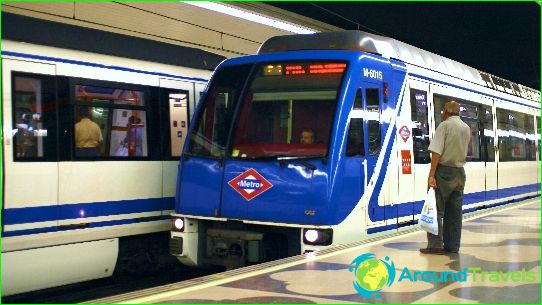 The Spanish capital is a tasty morsel not only for those who have made it out of their homeland for the first time, but also for experienced tourists who have already become acquainted with the city. Well-organized transport in Madrid will allow you to quickly and effortlessly get to the next monument or museum on the list. And there are plenty of attractions here.
The city authorities, meeting the wishes of the guests and increasing the tourist attraction, have introduced a special travel ticket. Its difference from the usual one is the ability to master all types of public vehicles, with the exception of taxis.
The geography of the action is zone A, the center of Madrid, where the largest number of objects of interest to the tourist is collected. In addition, in zone T, which is a suburb, guests of the capital can ride high-speed buses and trams. Another difference is that such a pass can be purchased not for one or two days, as in other European cities, but for a period of up to 7 days..
Madrid Metro
It ranks second in Europe in length, has 272 stations, it's no wonder you get confused. Fortunately for tourists, at each of the stations there are diagrams where the metro lines are marked with different colors. In addition, at other stands you can see which quarters are above the station, which greatly helps many tourists to navigate the city..
There are some nuances that you should be aware of in advance, for example, that cars can be opened automatically, using buttons or knobs. A complex system involves many passages and escalators, so you should be very careful in finding your station.
By light rail
This type of transport is also loved by guests of Madrid, as it is easy to use and the carriages are comfortable. Many tourists rest their feet and travel around the Spanish capital by tram. There is also a tram network operating as a "light metro", in green areas the cars go underground, like their big "colleagues", representatives of the ordinary metro.
Miss the bus
In Madrid there is a rule that this type of transport is given the right lane of the road. Therefore, a tourist, choosing a bus, may not be afraid to be late somewhere, even at rush hour they go quickly and on schedule..
The authorities take care of tourists here as well, as bus routes have been introduced that operate at night, and stands at each stop have information about the timetable and route map..
Photos