Tourism in Spain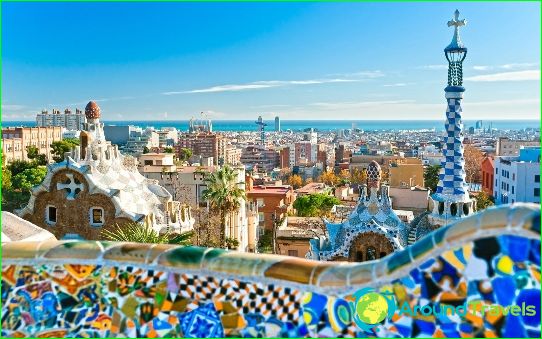 A small beautiful European state, modestly located in the western part of the continent, has long held an indisputable authority in the field of tourism. Spain knows how to surprise, amaze and delight its guests.
In winter, the Spaniards are ready for the invasion of lovers of downhill skiing, in summer it is difficult to find a place on the coast, in spring or autumn in cities and villages you can meet curious travelers discovering the rich history of the country or its national traditions, cuisine and beautiful natural landscapes.
Meanwhile, tourism in Spain began to develop not so long ago, in the middle of the last century, when the flow of guests sharply increased, primarily from neighboring countries. And by the end of the twentieth century, a relatively small country took the fourth place in terms of the number of visits by tourists.
Spain's secret - sun and sea
Beach tourism is the main focus of the holiday industry in this country and the most profitable businesses. Those who want to relax on the coast are attracted by the mild climate, which is comfortable for children, adults and the elderly. The Canary or Balearic Islands, which have long been recognized as an earthly paradise, are especially famous for this. These places were chosen by tourists from countries located north of Spain..
The Catalan resorts of the Costa Brava, Costa Dorada have come to the liking of their close neighbors - the French, and the Spaniards themselves do not deny themselves the pleasure of soaking up the sun and getting into the arms of gentle sea waves. German and English travelers occupy the coast of Valencia.
A culture with a rich past
Almost all tourists, except for the actual rest at sea, go on various excursion routes in order to get to know the nature and culture of Spain, its monuments and artifacts..
Many of the country's guests first of all visit the most beautiful Spanish capital and Barcelona, ​​whose anthem, performed by the brilliant Montserrat Caballe and Freddie Mercury, conquered the planet. Both Madrid and its tourist rival Barcelona have collected unique monuments of Spanish history, reflecting the life of many tribes and generations..
Ten more cities, included in the World Heritage lists of such a respected organization as UNESCO, can easily compete in the number of surviving witnesses of a rich past. The most attractive, according to tourists, are Avila, Toledo, Segovia, Seville, Cordoba and Salamanca..
Photos