Holidays in Spain in December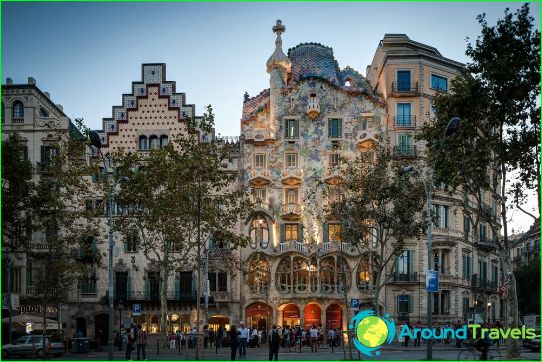 The weather in Spain in the first month of winter is characterized by gusty winds, high levels of humidity, and a decrease in daily temperatures. These changes are especially noticeable in coastal areas..
Weather in Spain in December

The weather in northeastern Spain is very cold for the native Spanish. For example, in the Costa Brava region the temperature is + 13C during the day and + 6C at night..
In Barcelona during the day the temperature can reach + 14C, at night + 8C.
The Costa Dorada, one of the most popular resorts in the Mediterranean, offers more pleasant weather, with daily temperatures ranging from + 7-15C. The fact is that the Costa Dorada is protected from cyclones by the chain of the Pyrenees mountain system. However, there can be 11-12 rainy days in December.
In the southern regions of Spain, the best temperature regime is established: + 9-17C. However, despite the warm weather, rainfall falls on 13 days of December..
In the central regions of Spain, a sharply continental type of climate reigns. Madrid, the capital of Spain, is located on a hill, and therefore the city experiences a large difference in daily temperatures and cold weather. Early in the morning it can be about + 3C, and by lunchtime the air warms up to + 12C. It is important to keep warm, because long walks in a light jacket will not be very comfortable due to high humidity.
Holidays and festivals in Spain in December
December in Spain is a month of holidays. On December 6, the Spaniards celebrate the Day of the adoption of the Constitution. In honor of this significant event, an open day is held in the Lower House of Parliament..
On December 8, Spain celebrates the feast of the Immaculate Conception of the Blessed Virgin Mary, who is the patroness of the country. On December 8, it is customary to hold festivals, solemn services in temples.
Before Christmas, fairs are held in Spain, among which Santa Lucia in Barcelona occupies a special place. On holidays, more than three hundred stalls are set up here, selling various souvenirs, green plants, sweets (marzipans and anise candies, halva), seafood and jamon. In the squares, talented dancers perform flamenco.
If you come on vacation to Spain in December, you will have the opportunity to celebrate the New Year in a special way..
Photos of holidays in Spain