Seas of Spain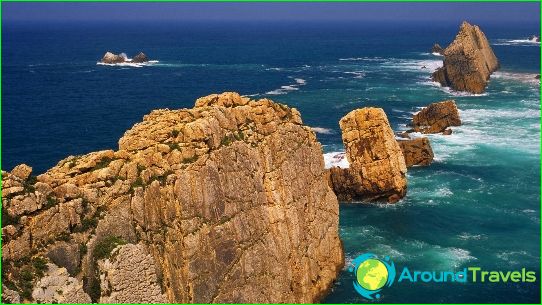 The Iberian Peninsula, on which Spain is located, serves as a barrier separating the Atlantic and Mediterranean Sea. From the north, the coasts of the country are washed by the Atlantic Bay of Biscay, from the southeast by the Balearic Sea, and from the south by the Strait of Gibraltar. An unequivocal answer to the question of which sea washes Spain also does not exist because the islands of the Canary archipelago, which are part of the Spanish territory, are located in the Atlantic Ocean..
Mediterranean resorts
The first violin among the seas of Spain is played by the Mediterranean. It is on its shores that the main resorts are located, where in summer there is nowhere for an apple to fall from those who want to get a comfortable beach holiday and decent European service. Costa Brava and Alicante, Costa Dorada and Salou are opening the doors of their hotels and restaurants, and the famous Spanish Mediterranean beaches are becoming a favorite destination for young people, families with children and travelers of golden age..
A lot is connected with the Mediterranean Sea in Spain. It shapes the cuisine and directions of resort architecture, dictates bright colors and catchy headlines in the menus of coastal restaurants, becomes a fertile background for photo shoots and a place for romantic walks to the sound of the surf.
Answering the question which seas are in Spain, do not forget about the Balearic, which, in fact, is part of the Mediterranean. It washes the shores of Barcelona, ​​the Balearic Islands, and Valencia is considered its largest port. The water temperature in the resorts of the Balearic Sea in the peak season reaches +25 degrees.
An ocean for the strong in spirit
The Mediterranean Sea flows smoothly into the Strait of Gibraltar, which leads to the waters of the North Atlantic. The ocean coast in western Spain is a surfer's paradise, and the largest cities in this part of Spain are full of sights and architectural masterpieces. Columbus' ships departed from here, and the Spanish port of Cadiz on the Atlantic Ocean became the main place to start expeditions to discover and conquer America.
Interesting facts about the seas of Spain

The Atlantic allows Spain to enter the list of ten countries in the world in terms of the number of caught and exported fish and seafood.
The second name of the Bay of Biscay is the Cantabrian Sea.
The width of the Strait of Gibraltar does not exceed 14 kilometers.
Spain has a coastline of almost 5,000 kilometers.
Photos of the coast of Spain