Christmas in Chicago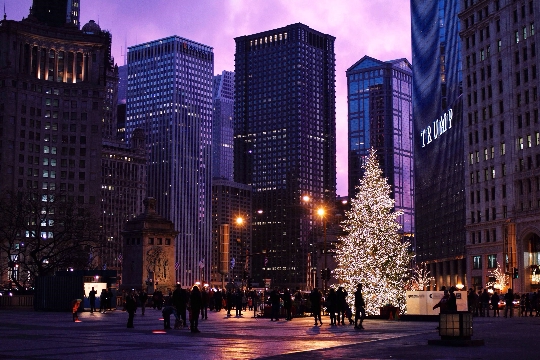 Arriving at Christmas in Chicago, you will see the main squares and central streets, immersed in golden color, and neither the facades of the houses nor the shop windows are deprived of festive illumination..
Features of celebrating Christmas in Chicago
The decoration of streets and houses (wreaths of spruce branches and colorful ribbons are hung on the door, multi-colored light bulbs are hung on the windows, a Christmas tree is installed in the family living room, decorating it with toys and balls depicting angels, and house owners display angel figurines in front of their homes, Mary, Santa Claus with assistants), Americans begin to study from the end of November - at the same time skating rinks open and places are allocated for shopping arcades.
Americans celebrate Christmas on the night of December 25 - at this time solemn services are held in churches and plays about the birth of Jesus are played. Turkey, beef, goose, ham, brandy, rum punch, whiskey are usually displayed on the festive table. Well, tourists for Christmas dinner should go to the restaurant "Everest".
Entertainment and celebrations in Chicago

If you want to listen to Christmas carols, Millennium Park will be waiting for you - dress warmly and get ready to listen to the choir chants. And since this park also has an ice rink, you will have a great opportunity to go ice skating.
On Christmas Eve, it is recommended to visit the Theater District of Chicago - it will delight you with wonderful premieres (some theaters and clubs will host comedy evenings - performances).
From mid-December to early January, Chicago invites you to visit the Festival of Lights at Lincoln Park Zoo (a wonderful view from the zoo bridge).
Do you want to celebrate your Christmas holidays on a yacht? At your service is Santa's party on a yacht - Yacht Party Chicago's Santa Booze Cruise (you will be offered to take part in incendiary dances, put on a Santa hat and spend time in the company with a living symbol of the Christmas holidays).
With children, you should go to the Shedd Aquarium - there will be educational events and performances.

Christmas Markets in Chicago
From November 28 to December 24, the Chirst Kindl Market begins to operate on Daley Plaza - open trade pavilions and stalls sell handmade souvenirs, wooden toys, Christmas tree decorations, angel figurines, boxes, ceramic mugs, and you can warm yourself in specially built houses and have a bite to eat with Christmas pastries, hot snacks and drinks. Coming to the fair with children, you can please them by visiting children's attractions, a puppet theater and workshops, where they will be given a workshop on sculpting various souvenirs.
In December, during the sales period, head to the many shops in the Magnificent Mile..
Photos