New Year in Las Vegas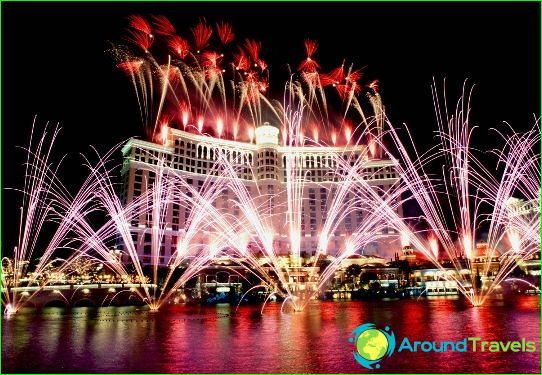 This American city in the heart of the hot desert bears the unofficial name "Capital ...". Continuation can be thought up by yourself and for every taste: the capital of excitement or the wedding capital of the world. Vegas can be the thrill capital during the winter holidays, which makes the New Year in Las Vegas a great way to break away from boredom and embark on the mysterious path of fulfilling desires and taming your own luck..
Little Europe
Of course, you shouldn't fly halfway across the world to be back in Europe. But as an option for a festive dinner in the style of the Renaissance, the Venice Hotel in Vegas will come in handy. In addition to the splendor of the festive table, over which the famous Italian chefs and pastry chefs will work hard, the New Year's ceremony will be remembered by sliding on the waters of the almost real Grand Canal in a genuine gondola under the Venetian barcarole.
A great way to meet the first day of the year is to book a table at the foot of a replica of the Parisian Eiffel Tower. Vegas has its own, which these days is decorated with especially bright illumination. Chansonnier and real champagne will make you feel like Parisian under the starry sky of Nevada.
Photos of Las Vegas New Years Celebration