Attractions in Las Vegas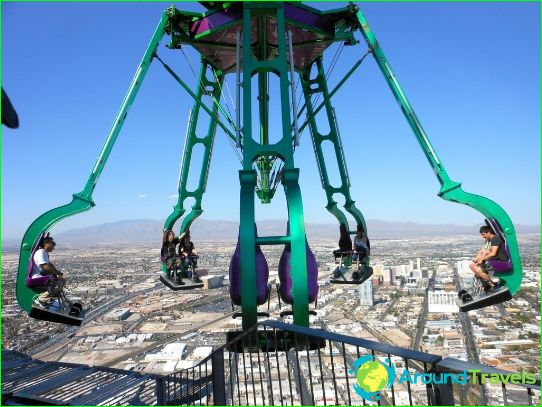 Las Vegas! Thanks to popular culture, this city is today one of the most famous entertainment centers on the planet. The atmosphere of celebration, fun and excitement reigns here all year round, and any newcomer has a chance both to squander everything to a penny and return home as a very wealthy citizen. Currently, there is no developed production or industry here, and the lion's share of the city's budget revenues are provided by attractions in Las Vegas, as well as its nightclubs, hotels, hotels, restaurants and, of course, casinos. In general, if we talk about places that everyone should visit at least once in their life, then Las Vegas, of course, is one of them..
This city is notable for the fact that entertainment can be found literally at every step. So, a not too experienced tourist is better off compiling a small list of the most interesting places in advance..
The Big Shot attraction at the Stratosphere Las Vegas hotel
Probably the most famous attraction in the city. It is located at an altitude of almost 330 meters and is a kind of carousel. True, the similarity is very approximate, since the frame with the seats not only circles lazily at an unimaginable height, but also jumps, dangles from side to side, and then suddenly freezes and imitates a fall down. In general, it is better for the faint of heart not to meddle here..
Ferris Wheel High Roller
The huge High Roller Ferris wheel is also the hallmark of the city. This gigantic colossus, 170 meters high, is equipped with glass cabins, so the ascent to the top, despite all its smoothness, can tickle your nerves. However, the design is highly durable, and during the entire operation of the wheel, not a single incriminating incident was noticed, so you can safely go here with the whole family.
This attraction has its own official page on the Internet, where you can familiarize yourself with the opening hours and find out the cost of tickets https://www.caesars.com/linq/high-roller.
Cable car Slot Zilla
One of the newfangled attractions in Las Vegas and it should be noted, one of the most successful. It is a kind of funicular without cabins. Anyone wishing to ride here is seated in an easy chair and the rope drags him at great speed over the surrounding hotels and casinos. There are two popular routes - lower and upper. The first one stretches at a height of about 20 m, the second - almost 40. The ticket price is 20 and 30 dollars, respectively.
Dig This Amusement Park
Attraction for adults. It is an exciting ride on huge multi-ton bulldozers and excavators. Everyone who wants to ride can: dig holes and trenches; destroy the surrounding hills and sand dunes; kick tires, old cars and other "small" rubbish and simply destroy everything inanimate that comes along the road. All in all, very decent entertainment too.
Photos of attractions in Las Vegas