Things to do in Las Vegas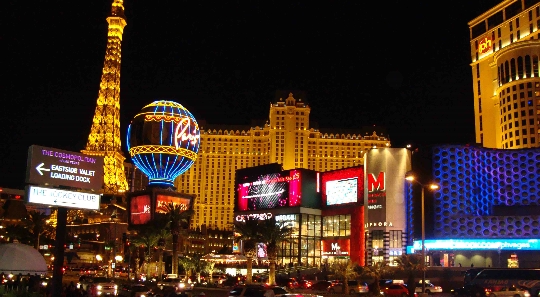 Entertainment in Las Vegas is represented by casinos, incendiary discos in nightclubs, festive events, carnivals and festivals.
Amusement parks in Las Vegas

Dig This: In this adult-only theme park, visitors are not having fun on the rides, but on the construction site, where they can play with hydraulic excavators or crawler dozers.
Adventuredome: Guests of this amusement park can spend time at the climbing wall, mini-golf course (18 holes available), shooting range, ride each of the 25 rides (note the breathtaking Canyon Blaster), watch the show clowns.
What entertainment in Las Vegas?
If you decide to visit the casino, pay attention to Bellagio - here you can not only immerse yourself in the world of gambling (at the service of visitors - slot machines, roulette, card games), but also visit the Botanical Garden, and admire the show of dancing fountains.
Do you want to spend time in nightclubs? Take a closer look at "Pure" (at the disposal of the guests of this institution - a large dance floor, bar, VIP-room) and "TAO" (the club is popular with fans of a festive and cozy atmosphere, as well as hip-hop and other music styles).
Do you like extreme entertainment? At the top of the hotel tower "Stratosphere" you can tickle your nerves on the extreme attractions "X-Screem", "Sky Jump", "Big Shot".
Entertainment for kids in Las Vegas

Shark Reef Aquarium: By visiting the various themed areas of this aquarium, your child will be able to see stingrays, jellyfish, sea turtles, sharks including zebra, sawfish, golden crocodile and others. In addition, visitors are invited to walk through a glass underwater tunnel, which can be an unforgettable adventure for you and your child. It is worth noting that here all interested divers are given the opportunity to dive under water with scuba diving - you can swim side by side with stingrays and fish.
"Sky Zone": in this complex your kid can jump on trampolines, play with soft cubes, do children's fitness.
Lion's Habitat At MGM Grand: If your child has long dreamed of seeing lions and their cubs, be sure to plan a trip to this nursery with him. Here you can experience incredible feelings walking around the territory of the nursery, because guests and wild animals are separated by a glass wall.
Discovery Children's Museum: Children of all ages can learn a lot about art and science through engaging educational programs and exhibits in this interactive museum.
While on vacation in Las Vegas, you can walk through the many shopping malls, take part in a wedding ceremony, go skydiving, visit strip bars and see legendary shows.
Photos