Los Angeles suburbs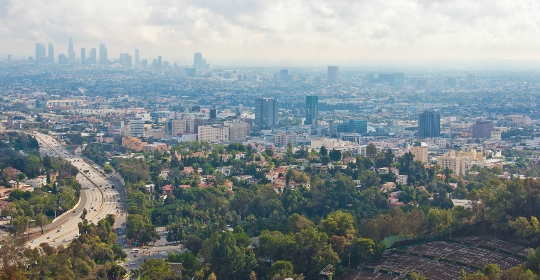 The City of Angels is the longed-for dream of many Russian tourists. One of the largest entertainment centers in the world, it offers its guests a variety of attractions, luxurious ocean beaches, breathtaking shopping and the opportunity to bump into world famous celebrities in any cafe or on the boulevard. Together with the suburbs, Los Angeles is one of the most numerous metropolitan areas on the planet, stretching along the Pacific Ocean for more than seventy kilometers.
Nine letters on the hill
One of the main attractions of the Los Angeles suburbs is the nine huge letters on Mount Lee Hill, which appear in the screensavers of many American films. The HOLLYWOOD sign is visible from different parts of the city, and its appearance in 1923 was associated with an advertising campaign for new residential areas. The height of each letter is 13.7 meters, and the approaches to the business card of this suburb of Los Angeles are guarded by a police video surveillance system.
Little Russia
The western part of Hollywood was chosen by former compatriots, and therefore here you can easily satisfy your nostalgia for your homeland. Restaurants with Russian cuisine and grocery stores with national products on Santa Monica Boulevard are in no way inferior in terms of the richness of the range of Moscow or St. Petersburg.
Malibu surfers
The famous beaches in the resort suburb of Los Angeles stretch for seventeen kilometers, and for those who love active entertainment on the water, every opportunity for a better vacation is created here. Surf schools and diving clubs line the beaches of Malibu with marinas. By the way, lifeguards here are really ubiquitous and, like in the movies, are distinguished by their excellent physique and sociable character..
Pink hello from Pasadena
Each new year in this suburb of Los Angeles begins equally beautifully - since the end of the 19th century, the city has hosted a magnificent Rose Parade, which is not inferior in entertainment to the Caribbean carnivals. In addition, many ancient buildings, mansions and temples have survived in Pasadena, so walking along its streets is a real pleasure for photographers..
In the footsteps of your favorite heroes
The endless television saga "Santa Barbara", sensational at the end of the last century, introduced millions of viewers to the inhabitants of this suburb of Los Angeles. Millionaires still live here, preferring quiet solitude in a zone of comfortable and mild climate. The beaches of Santa Barbara are called the American Riviera, although the temperature of the local ocean water rarely rises above +20.
Photos