Transportation in Miami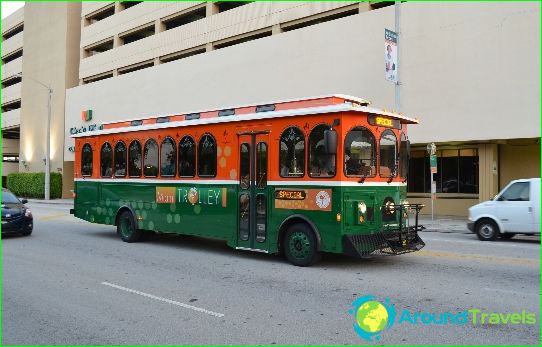 The city, which has gained fame as the main recreation center not only in Florida, but also in the entire North American continent, is the center of attraction for millions of tourists from the other part of the world. At the very thought of Miami, exotic landscapes of earthly paradise are instantly drawn: stripes of golden beaches receding into the distance, transparent azure of the sky merging with the endless ocean, bliss and complete relaxation.
Not many people will remember that this is not only a resort, but also a center of large business, respectively, all conditions for rest and work have been created in the city. Therefore, transport in Miami is presented in different forms, sometimes quite unusual.
Metro above ground
The most interesting transport in Miami is the subway, which could not be hidden underground. On the contrary, the branches are laid in the open air, and in some places the passengers have the feeling of flying above the earth's surface, as the train moves along the rails on cement supports. Picturesque panoramic views of the city open from the windows of the carriages, and the passengers of the first carriage have the most extraordinary feelings, as the trains are automated and move without a driver.
Expensive but convenient
So you can determine the movement in Miami in a rented car. At this fashionable resort, a priori, there can be no low prices, so a tourist must prepare about $ 100 for each day of the trip. And this is only the cost of rent, which is then added to gasoline, parking fees.
Those who rented a car should strictly adhere to local travel rules; a fine can significantly empty a tourist's wallet. It is also worth remembering that in Miami you cannot transport alcoholic beverages in the cabin, only in the trunk..
Multicolored routes
The main entertainment center has recently acquired double-decker buses designed for sightseeing routes for city guests, and local residents as well. The starting point is near Bayfront Park.
There are two multi-colored routes, one goes to Miami Beach (blue) and the other goes in the opposite direction (red). The journey takes place in a circle, with stops at iconic locations and the possibility of getting closer to local attractions.
You can buy a ticket for a day, for children the cost is slightly lower than for adult tourists. The second option - buying for two days - is even more profitable, since the cost increases slightly, but the number of discoveries, impressions, and the beauties seen increases.
Photos